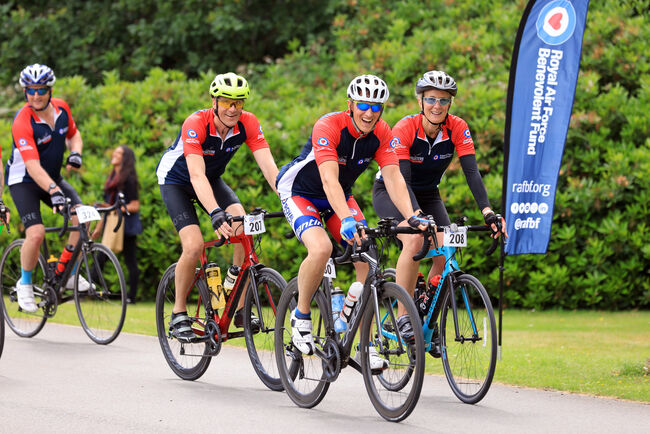 The Dambusters Ride
The Dambusters Ride returns in 2022 to mark 79 years since the daring and audacious operation was carried out.
We're back! This year with new Heritage routes and more exciting plans yet to be announced. Sign up to find out how you can honour those who took part in Operation Chastise, and in turn help us continue the work we've been doing for over 100 years.
The virtual event takes place over the weekend of 7-8 May 2022, or you can join us at the historical Petwood Hotel (Woodhall Spa, Lincolnshire) on Saturday 14 May 2022 to ride the Heritage Century or 60-mile routes.
In return for your support you will receive:
a guaranteed place in the event
a fundraising toolkit to help you reach your target
support from your local regional fundraiser to help you with your fundraising and answer any questions about the event
The Dambusters Ride 2022 bespoke event medal
a bespoke RAF Benevolent Fund cycling jersey
If you sign up for either of the Heritage routes, you will also benefit from feeding stations throughout the route and refreshments at the Petwood Hotel finish line.
Need to know...
Distance: Choose either 60 or 100 (Century) miles
Location: You can take part virtually on 7-8 May, or join us at the Petwood Hotel (Woodhall Spa, Lincolnshire) on Saturday 14 May for the Heritage event
Minimum fundraising target: £100
Registration fee: £25 virtual and £35 Heritage (non-refundable)
Age restrictions: No restriction for the virtual and minimum of 18 years old on the day of the Heritage event
Need to know more?
Got a question not answered above? Email challenge@rafbf.org.uk or call us on 020 7307 3321.