Guess the Bear's Name Competition
Host your own competition to see if your friends and family can guess the name of our little uniformed friend and take them home!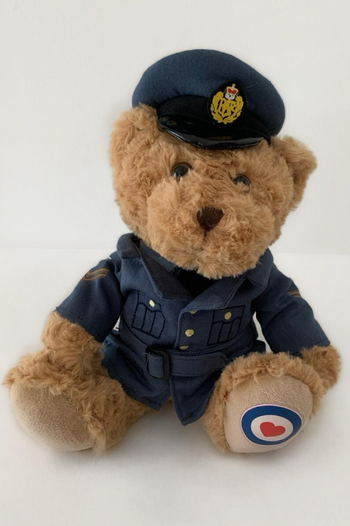 How it works
Organise your own Guess the Bear's Name competition either physically with your friends and family (at a social distance of course!) or virtually. There are a few different ways you can do this easily whether this is through Facebook, Instagram, as part of an event or why not get creative and come up with your own idea!
Request your bear below and ask all your friends, family and guests to try and guess the name of the bear from the list of names which we will send you, and charge them a 'fee' which will go in your fundraising pool. The more your raise, the more you help our RAF Family members in need.
If you're already signed up to host a Battle of Britain Tea Party, then why not run the competition during your event to keep your guests guessing and having fun? Whether you're hosting virtually or in your garden bring your bear along to have some tea and cake before going home with a lucky new owner.
Find out more about how you can host your own Battle of Britain Tea Party.
How much can you raise?
We are asking if you can raise a minimum of £50 through your competition (plus a £5 postage and processing fee). Of course, if you raise more than this we will be so grateful. You can charge your guest whatever you think is reasonable per guess. We suggest a minimum of £2 per guess. When you sign up our regional fundraisers will send you the bear and be at hand to give you all the top tips on how to run your competition!
Don't forget to share on your social media and tag us (@rafbf). You might even encourage your friends and family to take a guess or host their own 'Guess the Bear's Name' fundraiser.
Already registered? Download your fundraising resources.