Escape from Stalag Luft III
"Quickly, I climbed up to the surface and immediately found the rope ... I felt no signal, so it was not safe yet. Then I felt three distinct tugs and slowly popped my head up. The nearest 'Goonbox' was at least 200 feet away; but, indeed, I was 20 feet from the edge of the woods." Bram Vanderstok.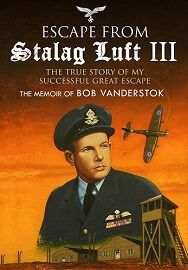 On the night of 24 March 1944, Bram (Bob) Vanderstok was number 18 of 76 men who crawled beyond the barbed wire fence of Stalag Luft III in Zagan, Poland.
Vanderstok's memoir sets down his wartime adventures before being incarcerated in Stalag Luft III and then in extraordinary detail describes various escape attempts, which culminated with the famous March breakout. After escaping, Vanderstok roamed Europe for weeks, passing through Leipzig, Utrecht, Brussels, Paris, Dijon and Madrid, before making it back to England. He reported to the Air Ministry and three and a half months after escaping, on 30 May 1944, he returned to the British no.91 Squadron.
In the following months he flew almost every day to France escorting bombers and knocking down V1 rockets.
In August 1944 he finally returned to his home. He learned that his two brothers had been killed in concentration camps after being arrested for resistance work. His father had been tortured and blinded by the Gestapo during interrogation. He had never betrayed his son.
A donation of 15% of the RRP is donated to the RAF Benevolent Fund with each sale.
The book can be bought from the Pen and Swords Books website.