Helping Stop Hitler's Luftwaffe
In this autobiography Sir Arthur outlines his career in the RAF from the early days when he joined the service in 1924, until his retirement in 1961, when he'd reached the rank of Air Marshal.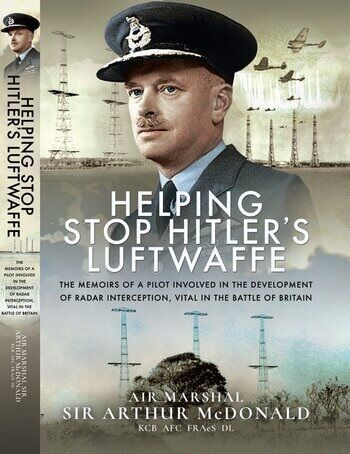 Importantly the book illustrates Sir Arthur's role in the Biggin Hill Experiment which played a vital part in saving Britain from German invasion.
"I hope you young men realise that the whole future of this country depends on what you are doing here at Biggin Hill."  Lord Swinton, the Secretary of State for Air at the time, told them when he visited the base.  The significance of this was recognized by Adolf Galland, the Luftwaffe fighter ace: 'From the very beginning the British had an extraordinary advantage – radar and fighter control.'
Arthur also explains how, when he was station commander at RAF Duxford during the war, he invented an invisible flare path. This prevented any of the RAF planes at Duxford from being shot down while landing at night by Luftwaffe night intruders.
There is also a description of the little-known Dowding Experiment. This experiment helped to convince the Air Ministry to switch priority in aircraft production from bombers to fighters just in time.
Arthur gives a valuable insight into flight training in the early days of the RAF, with first hand, often amusing accounts.  He gives details of important lessons learnt about carbon monoxide poisoning and the effects of anoxia on pilots.
In the early part of the book Sir Arthur also gives fascinating glimpses of his life as a boy growing up in Antigua and how his engineering career started in the Antigua Sugar Factory.
Besides a distinguished RAF career, Sir Arthur was a keen sailor and there are informative accounts of his sailing exploits; including yacht racing in Singapore in the 1930s, winning the Burton Cup in 1937, through to being the oldest competitor in single handed sailing in the 1948 Olympic Games in Torbay.
This fascinating book can be purchased for £20.00 through Pen and Sword's website, through Amazon or support your local bookshop and order a copy through them.