This is the fourth book by Lord Ashcroft in his bravery series.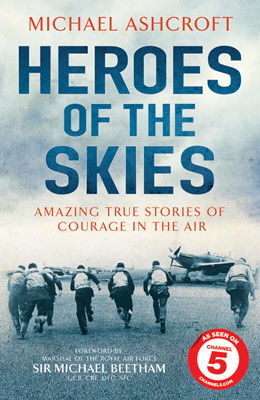 The book tells the remarkable stories behind the world's largest private collection of medals for gallantry in the air that were awarded to more than 80 British, Commonwealth and other Allied airmen.
Heroes of the Skies uses new material from pilots' log books, eye-witnesses, letters, interviews, citations and other sources to tell the stories of air combat, bombing raids and other bravery displayed by airmen as long ago as the First World War and up to the on-going conflict in Afghanistan.
The book will be published by Headline on 13 September 2012. Its foreword has been written by Marshal of the RAF Sir Michael Beetham GCB, CBE, DFC, AFC.
The book has been written in conjunction with a six-part Channel 5 television series, also called Heroes of the Skies, which will be screened in the autumn of 2012.
Presented by Lord Ashcroft, the television series is an ambitious, ground-breaking series which tells the stories of the most heroic airborne combat missions from history.
Using vintage planes such as Spitfires, Lancaster bombers and Phantom fighters the series features realistic mid-air combat sequences in addition to revealing interviews with the last surviving veterans, rare archival footage, cutting-edge computer generated images, and new cinematic techniques to transport viewers back in time to experience the reality of air combat.
Lord Ashcroft, KCMG, has established himself as a best-selling author with his Heroes series. His previous books (all published in hardback and paperback by Headline) were Victoria Cross Heroes (first published in 2006), Special Forces Heroes (first published in 2008) and George Cross Heroes (first published in 2010).
As well as being a military historian and author, Lord Ashcroft is an international businessman and philanthropist. He has built up the world's largest collection of Victoria Crosses (VCs), Britain and the Commonwealth's most prestigious award for gallantry. These decorations are currently on display in the Lord Ashcroft Gallery at the Imperial War Museum London.
Lord Ashcroft was one of the principal donors to the new Bomber Command Memorial in central London, enabling it to be built while some Bomber Command veterans, now in their late 80s and early 90s, are still alive.
All Lord Ashcroft's author's royalties from Heroes of the Skies will be donated to the Royal Air Force Benevolent Fund.