Jacob ('Jack') Goldstein was mid-upper gunner in a Lancaster bomber when it was shot down during Bomber Command's final WW2 mission to Nürnberg.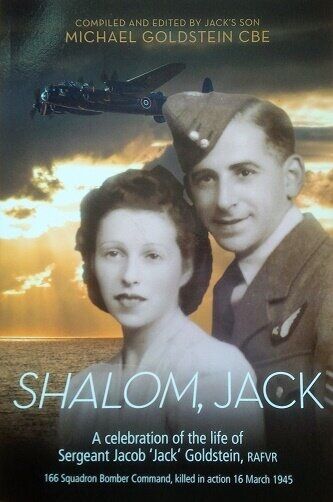 It was the night of 16 March 1945, just a few weeks before the war ended. He was the only member of the seven-man crew to be killed.
The title of the book derives from the simple entry 'Shalom!' that Jack's widow, Sadie, poignantly wrote in the book of remembrance at the Dürnbach War Graves Cemetery where Jack is now buried. This book is therefore a tribute to Sadie as well as to Jack, and to the many thousands of others in Bomber Command who gave their lives for world freedom.
'Shalom, Jack' traces Jack's family origins in an impoverished and oppressed village near Warsaw, and describes his mother bringing him to England aged just 17 months. They were one of thousands of families who fled the increasing discrimination and persecution facing Jewish people in Eastern Europe just before the start of WW1.
The book vividly relates in detail the struggles of Jack's upbringing amongst the poverty and deprivation of London's East End, overwhelmingly tempered by the love and happiness of his family and growing up as one of eleven siblings. It describes his marriage to Sarah ('Sadie') Goldberg, whose parents also came to the UK as immigrants from Poland.  
This book traces Jack's service in the RAF Volunteer Reserve and sets out his operational record as mid-upper gunner in Lancaster bomber RF154 of 166 Squadron, Bomber Command. It includes detailed accounts from fellow crew members of the events of that fateful night, 16 March 1945, when they were shot down by a German night-fighter, and all but Jack baled out to eventual safety.
Shalom, Jack is based on painstaking and well-documented research, eye-witness accounts, and personal recollections. It incorporates numerous photographs, documents and illustrations, and includes detailed references and notes. Insightful, analytical, emotional and at times humorous, the book describes with great sensitivity the traumas of war-time England, the profound importance of family, and the devastating impact of Jack's death.
It will be of particular appeal to those with interests in the history of the RAF and Bomber Command, life in London between the wars, social history of the 20th century, immigration, and Anglo-Jewish family life. Coming at a time when immigration, Europe, and anti-Semitism continue to be topical discourse, and in the year of the 100th anniversary of the RAF, Shalom, Jack is both timely and relevant to Britain today.
The book is available from Amazon and other booksellers, but also and conveniently from the author. Just email michael.goldstein@btinternet.com stating the number of copies needed and the delivery address(es). The UK price is £12.95 plus £2.05 P&P First Class for a single copy.
All income will be donated to the RAF Benevolent Fund and the Royal British Legion.