The annual Lord Mayor's Big Curry Lunch, organised by ABF The Soldiers' Charity, raised an extraordinary £250,000 this year.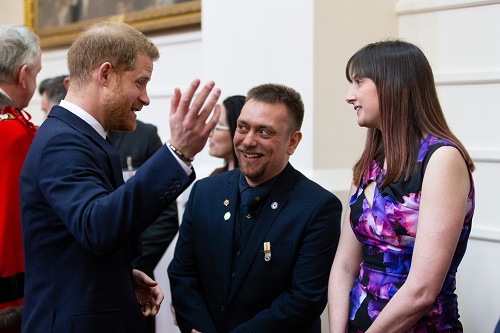 The event, which supports members of Her Majesty's Armed Forces who have served in Iraq and Afghanistan, has now raised over £2M during its twelve-year history. This year's lunch took place on Thursday 4 April at London's Guildhall with guest of honour HRH The Duke of Sussex in attendance.
His Royal Highness met with beneficiaries from the three charities supported by the event, ABF The Soldiers' Charity, the Royal Air Force Benevolent Fund and the Royal Navy and Royal Marines Charity, including RAF Benevolent Fund Ambassador Matt Neve and his wife Zoe.
Matt has been supported by the RAF Benevolent Fund since being medically discharged from the RAF and now competes internationally in archery competitions.
Matt Neve said: "It was a real privilege to have a proper chat with Prince Harry. I spoke to him about my mental health and he told me about his campaign to have PTSD recognised as an illness rather than a disorder. Harry also chatted to my wife Zoe and asked her about how my illness affected her and the family."
"I was very proud to be there as an Ambassador for the RAF Benevolent Fund, letting people know about how the charity has helped me."
Guests at the lunch were treated to unlimited curry, beer and wine and had the opportunity to take part in a fantastic silent auction and raffle and browse stalls from some of the livery companies attending the event.
The funds raised will enable veterans to attend King Edward VII's Hospital Charity Pain Management Programme as well as supporting the three service charities in their welfare work.
Thank you to everyone who supported the event.