In this guest blog, RAF Benevolent Fund Welfare Care Executive John Hickson explains why the Fund's new wellbeing breaks scheme is much needed among the RAF veteran community.
Everyone needs a break, a break from the norm and that is what this scheme aims to give veterans and their partners.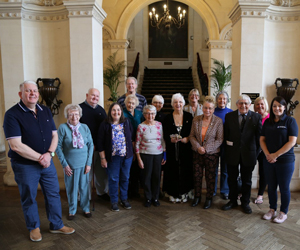 There are two kinds of break, group getaways for those who do not have care or mobility needs, and 'care hotels' where veterans can take time away with the security of knowing their care needs will be met.
The benefit of being able to take a break from their day-to-day routine and meet like-minded people with an RAF background is immeasurable. RAF veterans with care needs are able to take their carers with them, should they wish.
I spoke to the mother of a veteran in his 60s who enjoyed his first break for many years, thanks to the Fund. This gentleman had served his country in the Falkland Islands, but since leaving the service suffered from depression, PTSD and was wheelchair-bound. His week by the sea was just what he needed.
Similarly, we helped a WAAF veteran in her 90s get away from her second floor flat for a week-long break. This severely disabled lady was able to take her carers with her.
The most important outcome for this scheme is to allow those who would not usually get a break the opportunity to stay in locations they would not usually visit and enjoy activities they wouldn't ordinarily do.
To find out more about the Fund's National Wellbeing Breaks, call our free helpline 0800 169 2942.
By John Hickson