54 (R) Squadron have an association with some of the most iconic aircraft of all time and this month, celebrated 100 years of service.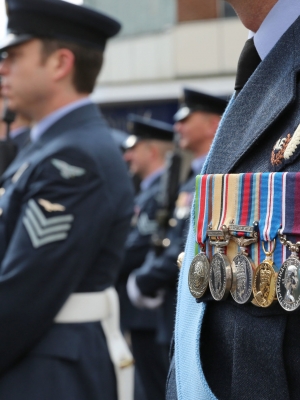 Waving goodbye to their days as a Spitfire Squadron and their jaunt with the Jaguars, the unit's current role involves training aircrews in operating ISTAR platforms.
As part of their centenary celebrations the Squadron joined the St George's Day parade marching with veteran associations, cadet forces and other uniformed associations at Southend-On-Sea.
In another special ceremony, the unit were awarded the Freedom of Southend-On-Sea to honour and cement their historical links with the town, stemming back to the Battle of Britain.
On May 5, 1916, 54 Squadron were formed at Castle Bromwich and instantly tasked with Home Defence duties. Soon after, their BE2C's were exchanged for Camels as they fought in ground attack and fighter sorties in France for the final months of the First World War.
The Squadron returned to Britain in 1919 where they disbanded and remained non-operational for more than ten years.
When they reformed as a fighter Squadron they flew a number of aircraft before they were eventually equipped with the Spitfire in 1939. This monoplane would serve the Squadron for the duration of the Second World War.
At the outbreak of the War, the unit's focus was flying defensive coastal patrols and air cover duties. Their introduction to combat came when they supported the Dunkirk evacuations and later when they were heavily involved in the Battle of Britain. In 1942, they moved to Australia to join the battle against the Japanese and remained there until the end of the War.
Following the War the unit moved to Odiham and was re-equipped with Vampires; when the Squadron made history by completing the first crossing of the Atlantic by jet aircraft in 1948.
Later came Meteors, Hunters and Phantoms as the Squadron deployed to trouble spots and took up ground attack duties.
In 1974 Jaguars were delivered to Coningsby where the unit were briefly stationed. It is this iconic aircraft that is most associated with the Squadron. The Jaguar force was moved to RAF Coltishall until 2005 when they disbanded.
Just a few months later 54 Squadron officially reformed at RAF Waddington as part of the Intelligence Surveillance, Target Acquisition and Reconnaissance (ISTAR) Operational Conversion Unit. Reforming as 54 (Reserve) Squadron they are now responsible for training aircrews in operating the ISTAR platforms; E-3D Sentry and the Sentinel R1.