The Blades, who perform dazzling displays around the UK and represent GB internationally by campaigning for the Red Bull Air Race World Championship, has donated more than £34,000 to support our work.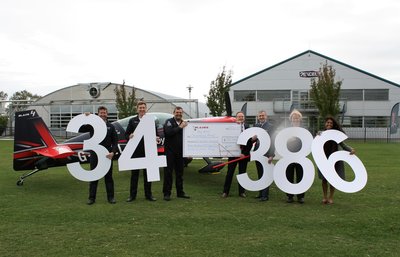 The Blades pilots, with strong heritage drawn from the Red Arrows, welcomed Paul Higgins, RAF Benevolent Fund's Chief of Staff, to their hangar at Sywell Aerodrome to receive the donation on behalf of our charity.
The Northamptonshire-based team has closely supported the RAF Benevolent Fund since 2015 when the charity became an official partner. So far, the team has donated an impressive £110,000 to us.
The money raised at the team's annual charity event, The Blades Ball, will support our commitment to helping and providing much-needed support to more than 55,000 RAF families.
Andy Evans, Blade 1 and Team Leader said: "It's been a privilege to support such a worthy and inspirational charity for the past four years and an honour to hand over a cheque for over £34,000.
"The RAF Benevolent Fund is an independent charity that relies solely on external support to continue the fundamental work it carries out, and we hope our donation will go a long way to help those in need.
"As former military pilots ourselves, the RAF Benevolent Fund is a charity which resonates with the team and we look forward to working alongside the charity in the future."
Paul Higgins, Chief of Staff at the RAF Benevolent Fund said: "On behalf of the Royal Air Force Benevolent Fund, may I say how delighted we are to receive this generous donation from the Blades. Now in its fourth year, it is a partnership we are very proud of and I'd like to thank everyone involved in organising the Ball and for all those who supported us throughout the 2018 season."