The Guinea Pigs were a unique band of RAF airman who paid a heavy price while serving for their country during the Second World War. Sometimes burned beyond recognition, with life-changing injuries, they battled disability and discrimination to go on to lead fulfilling lives.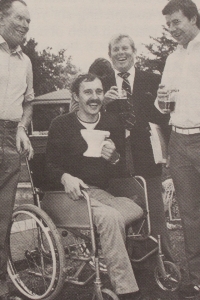 More than forty years on, the Guinea Pigs have used their own experiences to support other British servicemen who have sustained similar injuries in the line of duty.
A few months after the 1982 bombing of HMS Sir Galahad in the Falkland Islands, a group of Guinea Pigs visited The Queen Elizabeth Military Hospital in Woolwich where several Welsh Guardsmen were being treated for horrific burns.
A total of 47 servicemen were injured as a result of the explosion, the most well known of whom was Simon Weston, who suffered 46 per cent burns to his body and who later became an honorary member of The Guinea Pig Club.
The Guinea Pigs visit provided a welcome boost to morale and the older veterans were able to use their experience to provide their younger comrades with advice on such things as exercising hands and fingers to prevent joints from stiffening.
As one Guinea Pig commented at the time: "It was a satisfying and worthwhile visit, perhaps we have learned how useful we can be to the newly-burned victims, we could extend the practice in the future, if only to demonstrate that life can continue and be enjoyed, in spite of adversity."
These visits did continue and The Guinea Pig Club was there to help service personnel injured in more recent conflicts, as well.
Guinea Pig Jack Toper said: "The Guinea Pigs have been there to mentor new generations of burns victims, including Service personnel injured in the Falklands, Iraq, and Afghanistan. We know all about burns. We can tell them that their life is not over. It is beginning a new phase, but it is up to them what they want to do with it."
Visit The Guinea Pig Club homepage