The late Hurricane pilot Sqn Ldr Tony Pickering never forgot those he flew alongside during the Battle of Britain.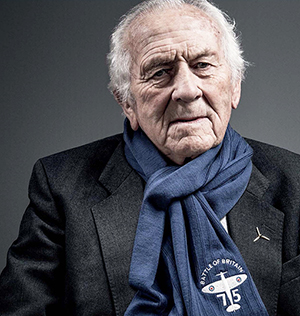 Like many of 'The Few', Tony was just a teenager when he was tempted to join the RAF Volunteer Reserves and learn to fly. Enticed by the offer of two shillings an hour and the opportunity to head to the skies, Tony spent his weekends learning to fly the Tiger Moth.
When war broke out Tony was sent to become a fighter pilot, simply because of his height! Smaller pilots flew Spitfires and Hurricanes and taller recruits were sent to serve with bomber squadrons.
Tony said: "I have never forgotten my comrades. There were some really great people, very humble people. I flew both the Hurricane and the Spitfire afterwards. The Spitfire was an excellent fighter.
"It is a lovely sound, the sound of a Merlin engine. It brings back memories for me, memories I have never forgotten."
Tony was posted to 32 Squadron in August 1940, and joined the Battle of Britain. He was shot down in action over Caterham on 11 September the same year. He baled out, unhurt and landed in the Guards Depot. After a swift explanation to the guards who thought he was a German airman, Tony was returned to his station and back flying the very next day.
He said: "Because of the importance of the battle it's necessary for people to understand how very near we were to losing. It's important to remember – not only the pilots but the ground crew, the civilians, everybody who did their job.
"We were asked to do something and we did it."
Visit the Battle of Britain homepage