"We came back relaxed from our holiday – that doesn't usually happen and it's all thanks to the RAF Disabled Holiday Trust."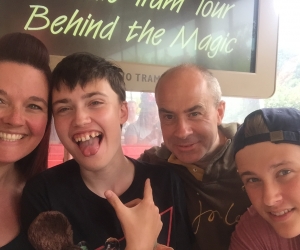 Jannine and her husband Sgt Phil Tempest had been away with their two boys Joe (14) and George before but the accommodation hadn't been quite right for their son George's needs.
George, 16, suffered a stroke before he was born which left him with epilepsy, cerebral palsy, autism and learning difficulties. He gets tired quickly and likes to spend time at home relaxing with DVDs in between trips out and about.
Jannine said: "The villa in France was perfect. The DVD library was the best part of the holiday for George. We went swimming and biking, using the wheelchair bike which the Fund bought for us a few years ago, and then we were able to come home and allow George to rest and chill out with a DVD."
The family, currently based at RAF Scampton, also took the opportunity to visit Disneyland Paris while they were in France.
Jannine added: "We had a short break in a caravan which was nice but difficult at times. We would not have been able to afford a villa like this so it was really nice to be able to go. We have often got to the point before a holiday where we ask ourselves 'are we doing the right thing, what if something goes wrong?' but with this holiday it just meant we could relax as a family."
The RAF Disabled Holiday Trust offers RAF personnel, serving and retired, and their dependents with severe disabilities self catering holidays in the UK and overseas. The facilities are specially adapted and accessible allowing families to holiday together.