Recently more than 100 Airplay members got together to attend the first-ever Airfest at RAF Cosford. In this blog, five teenagers Bailey, Ella, Josh, Libby and TJ who travelled from RAF Lossiemouth share their impressions of the event.
Airfest was one of the best experiences we have had with Airplay. It was based in Cosford, which meant we had to travel down by plane and bus. We camped on site, so we were right next to all the action.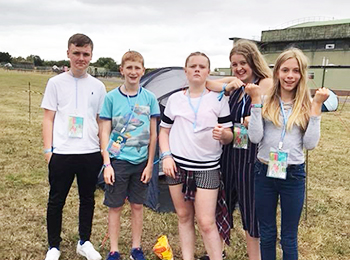 The variety of music and stalls meant there was something for everyone. There was R&B music and rock music, with our favourite tribute bands being ABBA and Queen.
The stalls included music/song writing, henna, game consoles, bungee trampolines, climbing walls and laser tag. Laser tag was really cool because it was inside a bouncy castle. We all fell over so many times and having to sneak up on everyone made us feel like James Bond.
During the music festival, we got the opportunity to sing on stage in front of everyone, which was really exciting and a great experience.
We sang two songs, Castle on the Hill by Ed Sheeran and Let Her Go by Passenger. For the first song our microphone wasn't turned on however when it turned back on we were all bickering over whether it was on or not so everyone heard us.
It was a great experience, we were all really nervous getting on stage, but afterwards we all gained a sense of achievement and confidence.
It was a great weekend and our supervisor, Karen, was extremely supportive and spontaneous. Even though the food variety was limited, we would all jump at the chance of going to Airfest again. Being on stage and playing in the stalls with friends, whilst meeting new friends, are memories we will never forget.
By Bailey, 13, Ella, 13, Josh, 12, Libby, 14, and TJ, 13