Douglas Bader was a Battle of Britain pilot unlike any other. Medically discharged against his will in 1932, the outbreak of the war was an opportunity for Bader to re-join the RAF and take back to the skies. Although hampered by the loss of his two legs, Bader was a remarkable pilot and, once captured by the German, a persistent escapee.
The start of the Second World War spelt opportunity for Douglas Bader, who had been medically discharged from the RAF following a plane crash in late 1931.
Bader lost both legs when his Bristol Bulldog crashed and, despite demonstrating his ability to continue flying and his competency on prosthetics, he was medically discharged against his will.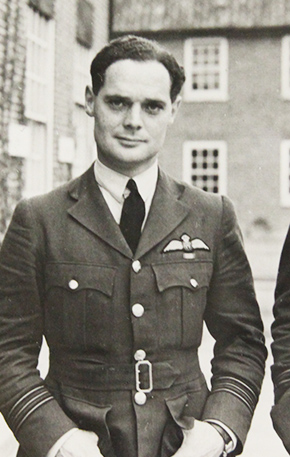 Having successfully petitioned the RAF to return to service and passed his re-training, Bader was assigned to No. 12 Group and flew with No. 222 Squadron at RAF Duxford. He fought over Dunkirk in the Battle of France, where he scored his first victory.
Upon his return to the UK, Bader was given command of No. 242 Squadron and flew Spitfires in the ensuing Battle of Britain. Bader and his squadron brought down 67 German aircraft and lost only five pilots, yet Bader is perhaps better known for his advocacy of the controversial 'Big Wing' formation during this time period.
It was during the following year, 1941 that Bader's luck ran out in a mission over France. Bader's plane was damaged during a dogfight with German aircraft, although debate continues on whether he was brought down by enemy fire, friendly fire, or a collision with another aircraft.
Attempting to bail out, Bader was trapped in the disabled aircraft by his prosthetic right leg. It was only when the leather strap on his prosthetic leg snapped that he was freed from the crashing plane and safely parachuted to the ground.
In a remarkable piece of wartime diplomacy, German General Adolf Galland notified the RAF of Bader's missing right prosthetic leg and, with Hermann Goring's permission, the RAF was given safe passage to parachute in a replacement prosthetic in a mission called 'Operation Leg'.
Bader then used this leg to mount multiple escape attempts from various prisons, including Stalag Luft III, later the scene of The Great Escape.
An incorrigible escapee, Bader was eventually imprisoned in Colditz Caste, from which he was freed in 1945.
He was given the honour of leading the flypast of 300 aircraft over London in June of that year.
After the war, Bader became an advocate for the disabled and continued to fly until 1979. He died in 1982 and his funeral was attended by many, including Adolf Galland, the German general who arranged the return of his leg and with whom he had maintained a friendship for 42 years.
Visit the Battle of Britain homepage