RAF veteran Tony Beck's life was turned upside down in 2007 when he was diagnosed with a brain tumour. After undergoing surgery and months of rehabilitation, it became clear that Tony wouldn't be able to return to his role as a telecommunications operator in the RAF.
Tony, who is now in a wheelchair, found that he wasn't going out or interacting as much as he would have liked. But in April this year, all that changed when he heard about the Fund's Wellbeing and Employment Pathway.
The programme, funded by the RAF Benevolent Fund, in partnership with RFEA – The Forces Employment Charity, provides Fund Housing Trust veterans with an opportunity to enhance their life skills, which in turn can help to improve confidence, communication skills and provide access to training or employment.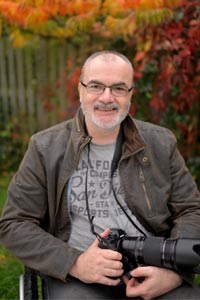 Tony was appointed an advisor who looked at his interests and hobbies along with his lifestyle changes and encouraged Tony's keen interest in photography.
Thanks to the programme Tony was able to buy a lightweight digital camera and we funded built-in equipment storage to his wheelchair. He's also signed up for a photography diploma course which starts soon. He's since attended workshops with Combat Stress and other veterans and is looking forward to them starting a peer to peer group for local ex-Forces.
Tony, 51, says: "I feel like I have a purpose again and I'm really looking forward to something for the first time in a long while."
Tony was 26 when he joined the RAF in 1990. Fifteen years later, while stationed at HMS Forest Moor, he collapsed one Friday morning. He was unaware that he had a brain tumour but the diagnosis was confirmed seven weeks later by doctors after he began having blurred vision and dizziness.
After a couple of weeks in hospital, Tony went to neurological rehabilitation in Harrogate for six months. He had to re-learn many everyday tasks including washing and dressing himself. The RAF provided adapted accommodation while he recovered, but it became obvious that Tony wouldn't be able to return to work.
The Fund stepped in and supported Tony and his family by funding a fully adapted property to suit his needs through their Housing Trust scheme.
Tony says: "From being so desperate, we were OK again as the RAF Benevolent Fund stepped in and did magical things. No words can express how thankful I am for all they have done for me."
If you are a RAF Benevolent Fund Housing Trust occupant and you would like more information, please contact: 0207 307 3436.