Last month saw RAF High Wycombe's Thursday Club visit our Head Office to present a cheque, highlighting their monumental fundraising efforts.
The Thursday Club has been running for many years at RAF High Wycombe, and has always shown strong support for the RAF Benevolent Fund, as well as many other deserving charities.
Although the Club is now closing its doors, it has served admirably as a fundraising and awareness cohort, which in the past has seen support from Lady Pulford, the wife of Air Chief Marshal Sir Andrew Pulford, former Chief of the Air Staff.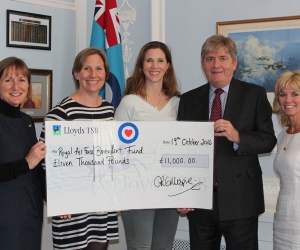 Today, the Club has a dedicated number of individuals who champion charity causes, including the Fund. With the help of these selected few; including Cath Gillespie and Squadron Leaders Vicky Littlechild and Lou Henton; the Fund has benefitted from proceeds from events including Christmas fayres and Easter gatherings.
Earlier this year, the Club organised a very successful Bollywood Evening, attended by personnel at RAF High Wycombe, as well as members of the Fund itself.
David Murray welcomed the Club to Portland Place, and gratefully received their cheque for a very generous £11,000. Since inception, the Club have raised over £50,000 for the Fund.