A team of serving personnel from RAF Wittering are about to drag themselves through the mud at this year's Rat Race Dirty Weekend at Burghley, the biggest obstacle racing weekend in the world. In aid of the RAF's leading welfare charity, the RAF Benevolent Fund, the team of nine hope to raise more than £1000 to support their fellow members of the RAF Family, and to commemorate the charity's centenary anniversary.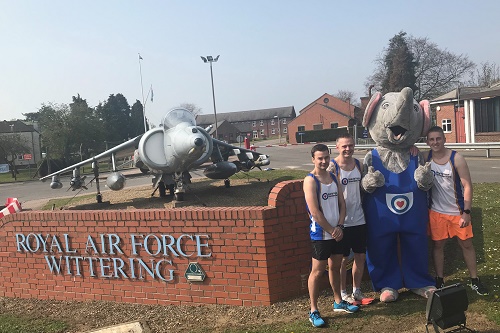 Taking on the full course at this year's Burghley Mud Run, the team, includes Flt Lt Dan Gordon, Fg Off Jeremy Parker, Sgt Jason Raymont, Cpl Richard Pidgeon, SAC Edward Allen, Mrs Antonietta Gordon, SAC(T) Andrew O'Gorman, SAC Olivia Titmus, and SAC Jack Gibbons.
One of them will in fact be completing the entire challenge wearing the iconic RAF Benevolent Fund 'Ben Elephant' costume. The course comprises 20 miles of mud-covered fun and the race takes place on May 11.
Sgt Jason Raymont said: "We are all very excited for this year's mud run. We wanted to show our collective support for the RAF Family, and what a better way to do so then by running around in the mud for a weekend!
"The RAF Benevolent Fund has stood by RAF families since 1919, during times of struggle and hardship. They strive to support each and every member of the RAF whenever they need them – a very worthy cause in our books."
The team will be attempting to complete the gruelling 20-mile obstacle course in an effort to raise funds and awareness for the RAF Benevolent Fund.
Lisa Hunt, Regional Fundraiser at the RAF Benevolent Fund, said: "It's great to see such a shower of support for this fantastic event, and we wish the RAF Wittering team all the luck in the world.
"2019 is a very big year for us with the celebration of our centenary year. With supporters like this we can strive to continue to support the needs of the RAF Family."
To sponsor the RAF Wittering racers in the 2019 Dirty Weekend, visit the group's JustGiving page.