About the Battle of the Somme
The Battle of the Somme started on 1 July 1916 and continued for 141 days until 18 November 1916. The battle was the largest of the First World War on the Western Front, stretching along 16 miles north of the Somme River.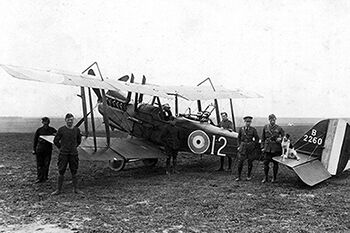 After four months of bloody fighting the British and French had only penetrated six miles into German held territory.
The first day of action was the worst in the history of the British Army, which suffered 57,470 casualties.
The British and French forces, including forces from the British Empire such as Canada, Australia, and New Zealand, suffered staggering losses over the four month battle. Combined casualties totalled 623,907 men, including 146,431 killed or missing.
Germany suffered heavy losses as well, with 465,181 casualties including 164,055 killed or missing.
The Royal Flying Corps, the predecessor of the modern Royal Air Force, served bravely in the Battle of the Somme and proved the importance of air superiority in ground battles.
Their work was vital in reconnaissance of German lines, the direction of artillery fire, the destruction of German assets both on and behind the frontline, and the rapid relay of information from the battlefield to headquarters.
These skills, developed and advanced over the battlefields of the Somme by the Royal Flying Corps in 1916, are the cornerstone of RAF activities today.