Operation Manna took place towards the end of the Second World War when the Allied forces stepped in to air-drop food to the people of Holland.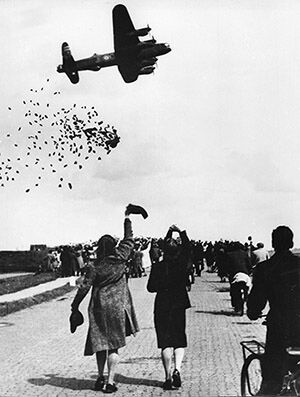 Years of German occupation and war had taken their toll on the Netherlands, leading to thousands of deaths and leaving almost one million people malnourished by the end of the war.
People were desperate, eating whatever was to hand including dogs, cats and even tulip bulbs.
Lancaster bombers were adapted to carry life-saving supplies in their bomb bays and the crews trained to fly at levels as low as 300ft.
During a ten day effort, from April 29, they dropped 6,500 tonnes of food supplies, flying more than 3,000 sorties. Without their efforts, and with the help of the US Air Force, many more people would have starved to death.
Seventy years on, the RAF continues this legacy delivering aid to people in need around the world. RAF personnel are often called on to help those caught up in conflict or stranded by natural disasters.
More recent RAF humanitarian aid missions have included Operation Shader, which saw the RAF drop five tonnes of aid in Iraq in August 2014 and Operation Pennyweight which saw aid delivered to the Pacific islands of Vanuatu after they were devastated by Cyclone Pam in March 2015.