Victory in Europe Day on 8 May, generally known as VE Day, marked the formal end of Hitler's war in Europe.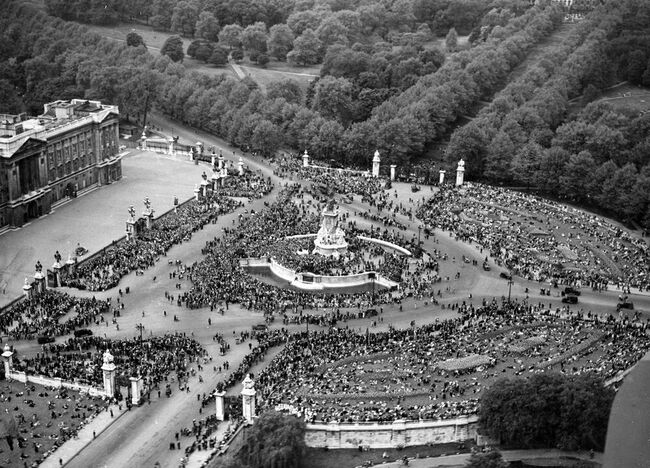 Following the suicide of Hitler on 30 April 1945, Grand Admiral Donitz, the designated head of the German State, travelled to General Eisenhower's Head Quarters in France, and, in the presence of senior officers from Britain, America, Russia and France, signed the act of unconditional surrender to the Western and Russian demands on 7 May 1945.
The war-weary British began to rejoice. People took to the streets to celebrate with friends and families, hanging bunting and banners and dancing.
As huge crowds gathered in London, at 3pm on the 8th May Winston Churchill made a radio broadcast announcing the unconditional surrender of Germany to the nation.
"...the fighters are our salvation but the bombers alone provide the means of victory"
Winston Churchill
King George VI and the Queen appeared on the balcony of Buckingham Palace, and the two Princesses - Margaret and Elizabeth – went out and mingled with the happy crowds. For many though, the war was not yet over, fighting on the Eastern Front continued until August of that year.