Bomber Command Remembrance Fund Club
Honour the memory of those who courageously served in Bomber Command, putting their lives on the line night after night, by joining the Bomber Command Remembrance Club and helping those they served alongside, and those that have followed in their footsteps, in need today.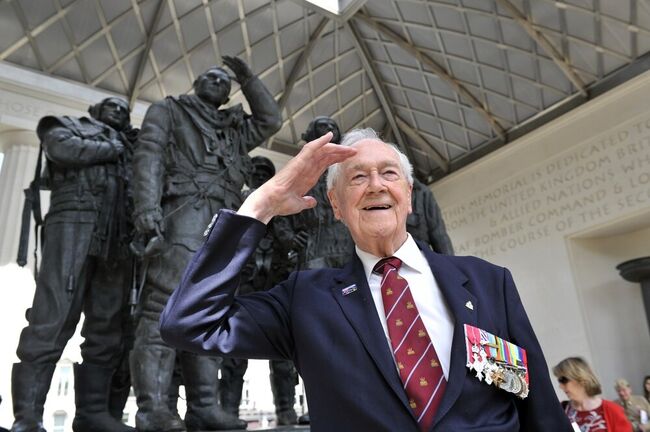 Through the Bomber Command Remembrance Fund Club, individuals who wish to make an annual donation of £1,000, or more, can keep the memory of those who so bravely served alive and honour their sacrifices by directly helping veterans and serving personal facing the toughest of times today.
Together we can alleviate social isolation and reduce loneliness, provide financial security and peace of mind and ensure those that have done their duty can retain their independence and live in comfort and dignity.
What we offer Remembrance Club members
By donating to the Remembrance Club you will become part of a community of donors with personal connections and common interest in Bomber Command. In return the Fund will work with you to show the impact of your giving through:
An invitation to the annual memorial event at the Bomber Command Memorial
Invitations to other RAF Benevolent Fund events across the UK
A unique pin badge and tie or scarf depicting the Memorial to wear with pride
An annual update specific to the Bomber Command Remembrance Fund
Regular updates about the work of the RAF Benevolent Fund
For those able to make a more significant annual donation, the Remembrance Club Manager will work with you to shape your experience to match your interests and values – matching your giving to beneficiary's services, tailoring reports and updates and recognising your giving in our communications.
Pledge a single donation of £15,000 or £5000 a year for three years and you will also receive a limited-edition copy of 'So Many', a beautiful leather-bound folio worth £1,500 detailing the lives of some of those who served in Bomber Command, complete with photos and handwritten letters from the airman.
If you would like to hear more about our work, or discuss making a significant gift, please email hannah.bower@rafbf.org.uk or call 020 7307 3359.