Located in London's Green Park, the Bomber Command Memorial has been built to be modern, yet classical, in Portland stone.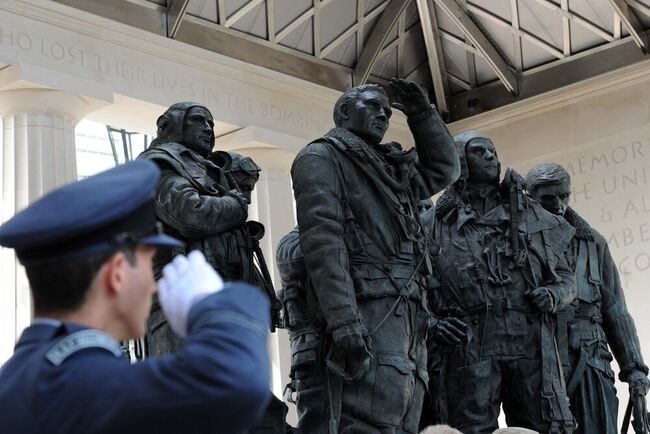 At the heart of the Memorial are the bronze sculptures of a Bomber Command aircrew.
Within the memorial, the space is open to the sky with an opening designed to allow light to fall directly onto sculptures of the aircrew.
The scale of the sculpture as a whole means that visitors will always see the profile of the sculpture against the sky above them, day and night - thus rendering that section of the sky powerfully symbolic for the memorial.
Halifax Bomber
The design for the roof incorporates sections of aluminium recovered from a Handley Page Halifax III bomber (LW682 from No. 426 squadron) shot down over Belgium on the night of 12 May 1944, in which eight crew were killed.
Three members of the crew were still at their stations when the aircraft was excavated in 1997.
They were buried in Belgium with full military honours alongside the five other members of the crew.
The memorial was officially unveiled by Her Majesty The Queen on 28 June 2012.
Maintaining the Memorial
As custodians of the Bomber Command Memorial, the RAF Benevolent Fund is responsible for the memorial's maintenance and upkeep in perpetuity. This is only possible thanks to the incredible generosity of the general public who have enabled us to raise the £2M required to secure the Memorial's future.