Dedication and unveiling of the Bomber Command Memorial
On Thursday 28 June 2012, Her Majesty The Queen attended the dedication of the Bomber Command Memorial and officially unveiled a sculpture of a bomber aircrew.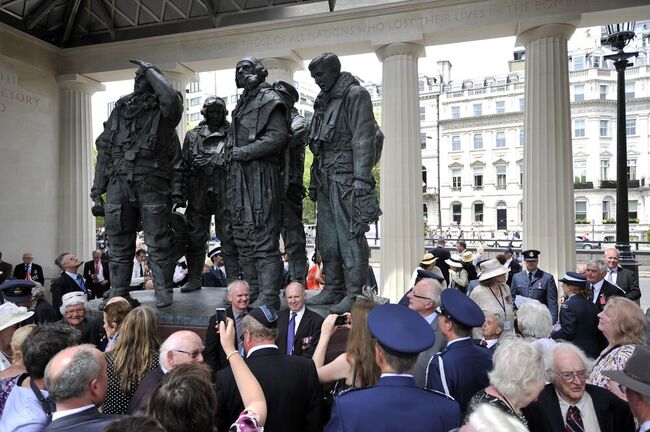 There was overwhelming interest in the event, with entertainment led by Carol Vorderman. The ceremony was attended by thousands of veterans and relatives of the 55,573 airmen who gave their lives serving in Bomber Command during the Second World War.
Overseas veteran guests came from many different countries including Australia, Canada, New Zealand, the Slovak Republic, France, Poland and Norway. After the ceremony the Prince of Wales and The Duchess of Cornwall stayed to meet veterans and relatives of the 55,573.
Flypast
The RAF provided a flypast of five Tornados in a 'V' formation. This was followed by a Lancaster which dropped thousands of poppies over Green Park in a salute to the 55,573.
Squadron Leader Ron Clark DFC, the captain of the original 100 Squadron Phantom of the Ruhr, joined the crew to release the poppies from the bomb bay.
Two very poignant comments were made during the day, Squadron Leader Russ Russell on his radio transmission to air traffic control said "Ten POB (people on board) with 55,573 souls" and later as the poppies were released, Ron said "Lest We Forget" which was echoed by the rest of the crew on board.
Support
Many of the guests commented on the wonderful welcome and assistance they were given by the volunteer hosts. These volunteers came from the regular RAF, including Officer Cadets, as well as University Air Squadron students, Air Cadets and lots of helpers from the RAF Benevolent Fund.
RAF Ceremonial led in providing and orchestrating support from the RAF elements taking part in the ceremony, including RAF Squadron standards which were paraded for the ceremony.
Just as importantly, behind the scenes the contributions from the Royal Parks, Westminster City Council, St John's Ambulance, the London Ambulance Service, London Fire Brigade, the Metropolitan Police and Arena Group were pivotal to a successful day.