Who are the Guinea Pig Club?
The Guinea Pig Club was formed in July 1941 to support aircrew who were undergoing reconstructive plastic surgery after receiving burn injuries in the Second World War.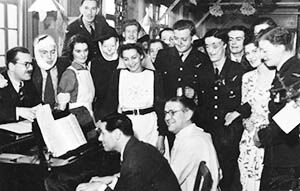 What began with 39 patients grew to 649 by the end of the war and included Canadians, Australians, New Zealanders as well as Americans, French, and Czechs and Poles.
Under the care of surgeon Sir Archibald McIndoe, pioneering plastic surgery techniques restored function and gave hope to these young men with life-changing disfigurements.
With his encouragement, the Guinea Pigs did not hide away with their injuries, but instead led full, active lives.
They challenged the existing perception that disabilities were life-limiting and went on to mentor new generations of burns victims, including Service personnel injured in the Falklands, Iraq, and Afghanistan conflicts.