Executive Leadership Team
Controller
Air Vice-Marshal Chris Elliot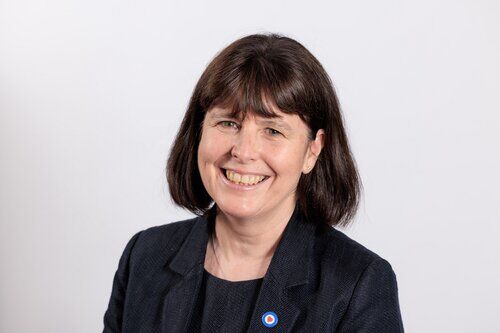 After gaining her degree from Glasgow University, Chris joined the Royal Air Force (RAF) in 1985 as an Air Traffic Control Officer. She has served at many RAF airfields, including Brize Norton, Valley, Leeming and Marham. Following promotion to Squadron Leader and an appointment as the Senior Air Traffic Control Officer at Linton-on-Ouse, she moved to the Operational Requirements (Air) Directorate in the Ministry of Defence and then attended the Advanced Command and Staff Course (ACSC) in 2000.
Following promotion and a staff appointment supporting the Commander-in-Chief Personnel and Training Command/Air Member, she was appointed as Officer Commanding Operations Wing at RAF Northolt and then returned to the ACSC as Directing Staff. As a Group Captain she joined the Royal College of Defence Studies in 2010 prior to her appointment as the Commanding Officer at RAF Halton.
On promotion to Air Commodore, she left her role in Programmes and Plans at AIR Command and joined No 22 (Trg) Gp as the Director of Ground Training and Senior Air Staff Officer. She retired from regular service in June 2020 in the rank of Air Vice Marshal, her last role in being the Chief of Staff Personnel/Air Secretary.
She was a Trustee of the RAF Sports Federation for 8 years and left the Charity after handing over as Chair in February 2020. She joined the RAF Benevolent Fund in April 2020, taking over as CEO. Married to James, Chris has two teenage children and enjoys photography, running and dog walking and squeezing in her passion for skiing, motorbikes and cooking, around a busy family life.
To contact Chris, please email her EA Kirsty Jackson at kirsty.jackson@rafbf.org.uk.
---
Director of Grants, Services & Programmes
Air Commodore Simon Harper OBE MA Chartered FCIPD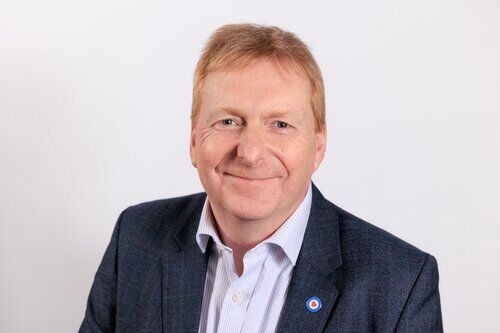 Air Commodore Simon Harper joined the Royal Air Force in November 1988, having served over 2 years in the Royal Navy.  Commissioned as a Personnel Officer, Simon has undertaken a range of HR roles across many locations in the UK and deployed in Afghanistan. He is a former Trustee of the RAF Benevolent Fund and the RAF Sports Federation.
In 2012, Simon assumed command of RAF Halton and graduated from the Royal College of Defence Studies in 2015 having co-authored a paper, 'The Military Instrument in the 21st Century', which was published as part of the Churchill 21st Century Leadership Programme. He was promoted to Air Commodore in 2016 and completed appointments as the lead for HR policy and, latterly, RAF ground training policy and strategy. On leaving the RAF, Simon assumed the volunteer reserve position as Regional Air Officer for the South-East of England. 
 
Simon is married to Carolyn and has 2 adult sons. He maintains his keen interest in football having led UK Armed Forces Football since 2016 and remains a passionate supporter of both Portsmouth FC and, changing sports, Hampshire Cricket.
To contact Simon please email directors@rafbf.org.uk.
---
Director of Resources
Victoria Akinboro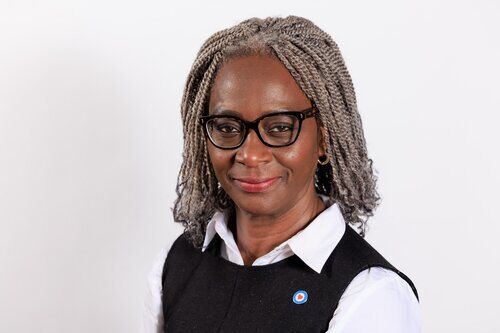 Victoria has worked at the RAF Benevolent Fund since December 2013 and has held a number of roles before being appointed Director of Resources in January 2022.
Victoria has a BSc in Economics and is an accountant by profession. After training in practice, she started her career in the commercial sector, but the significant part of her extensive experience has been in non-profit organisations where she has held several roles leading and transforming Finance functions.
She leads the Fund's Finance, IT and Facilities, HR, Governance and Data Protection teams. Her responsibilities include supporting the development of the Fund's strategy, ensuring that long term financial sustainability is secured and that the infrastructure supporting welfare and income generating activities is efficient, effective, and fit for purpose.
Victoria is a Trustee and member of the Finance Committee of two other charities. To contact Victoria, please email directors@rafbf.org.uk.
---
Director of Fundraising 
Ben Alonso
Ben joined the RAF Benevolent Fund as our Director of Fundraising in July 2023. He leads the Fundraising, Communication and Engagement teams who engage with the RAF Benevolent Fund's supporters who give their time, money and voice. The team strives to ensure that the RAF Benevolent Fund can be there for not only serving and ex-serving RAF personnel, but also the whole of the RAF Family, including dependants and carers for however long it takes.
Ben has over 14 years' experience and has a proven track record in successfully delivering fundraising growth and maximising income opportunities for organisations. He has held a number of senior roles in fundraising at national and regional charities as well as completing an interim CEO post in 2022 before joining the RAF Benevolent Fund. 
Ben has a MA in International Conflict Analysis and PgDip in Charity Marketing and Fundraising.  Ben lives in London, is a keen winter sport enthusiast and enjoys travelling.
To contact Ben, please email directors@rafbf.org.uk.
---
(Interim) Associate Director of Strategy and Impact 
Dr Hannah Brooking
Hannah joined the RAF Benevolent Fund as our Welfare Research Executive in 2018, having come from a background in academia. Hannah progressed to become our Research and Evaluation Manager where she has continued to develop the Fund's research function, with a keen focus on research that provides a high degree of insight into the needs of the RAF Family. This included launching the Fund's Gambling and Wellbeing in the RAF research report in 2022.
Hannah was appointed Associate Director Strategy and Impact in July 2023, having just launched the latest research project which is an update to the Meeting the Needs of the RAF Family and Meeting the Needs of the Serving RAF Community research reports. Hannah led a review into the impact data that is collected across the organisation and has been instrumental in setting up the impact and evaluation function at the Fund enabling us to demonstrate the impact our work has on our beneficiaries. Hannah's background in research, data and computer science, means she is now well-placed to lead the centralised function, drawing on data, evidence and insight to steer the organisation strategically and maximise the Fund's impact. This includes a focus on developing and innovating so we remain relevant to the RAF Family and being fit and effective as an organisation.
Hannah holds a PhD in Computer Science and a Masters in Environmental Informatics both from the University of Leicester. To contact Hannah, please email directors@rafbf.org.uk.