The RAF Benevolent Fund Ambassadors
Former Sergeant Bob Greig joined the RAF in 1979 and was serving as a parachute jumping instructor when he was seriously injured. Whilst on a routine exercise Bob's main parachute failed and his emergency one tangled, resulting in him falling almost 6,000ft.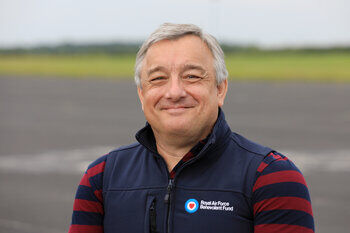 Due to the quick reaction and determination of his colleagues, Bob miraculously survived the fall but dislocated and shattered his jaw and suffered severe spinal injuries.
The Fund has supported Bob since 1984 and continue to support him today with a home that enables him to live a fully independent life.
Bob said: "The quality of life that I now experience is inextricably linked to the continuity and level of support I've received from the Fund since 1984. I am extremely proud to be an ambassador for the Fund. I will be eternally grateful for the assistance I have consistently received over the years."
You can listen to Bob's inspiring story in our special podcast or in this short film here.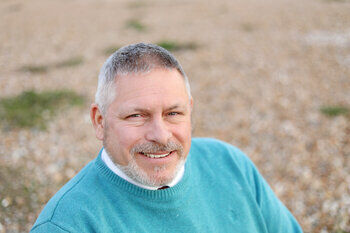 Flight Lieutenant Carl Harding joined the RAF Regiment aged just 20. In 1992 he found himself deployed to the besieged Bosnian city of Sarajevo during the Balkans war.
In 1997 Carl's RAF career was cut short when he was involved in a serious motorcycle accident, which left him in a wheelchair. We stepped in and supported Carl with a Housing Trust property suited to his, and his families, needs.
Carl said: "Thanks to the RAF Benevolent Fund's support, me and my family had somewhere to live, enabling me to adapt to life as a wheelchair user."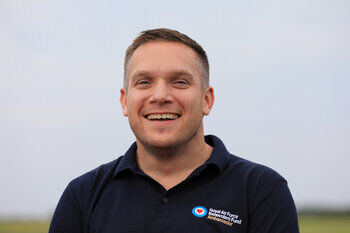 In August 2000, aged just 20, former Senior Aircraftsman Dan Pelling's life changed forever when he was involved in a serious hit and run accident whilst deployed to Italy, which left him paralysed from the chest down.
Keen to remain independent, in 2003 Dan became the Fund's youngest Housing Trust occupant when he moved into a specially adapted bungalow in Horsham, close to his family.
More recently we enhanced Dan's kitchen and garden, providing accessible kitchen units and landscaping the garden so it's easy for him to manoeuvre in his wheelchair.
Dan said: You have a lot to deal with when you have a disability but it's reassuring to know I'll always have the Fund's support."
Flight Sergeant David Rose served in the RAF for 31 years as an aircraft engineer on Fast Jets and Helicopters. Posted both in the UK and overseas, he undertook operation roles within the Middle East and Afghanistan before being medically discharged in 2018 following a life-changing injury.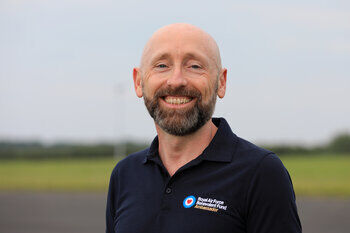 David's injury had left him with partial paralysis to his right arm and after years of complex surgery he used cycling as a means of rehabilitation.
The Fund gave David a grant to adapt his car so he could continue to drive, and a recumbent trike, so he could continue to cycle. 
David said: "These helped me to adapt to my new circumstances and grow despite my disability".
Undeterred by his disability, David has competed in adaptive sports in both the UK and USA, delivering podium performances whilst encouraging the participation of others.
Hear more about David's road to recovery here.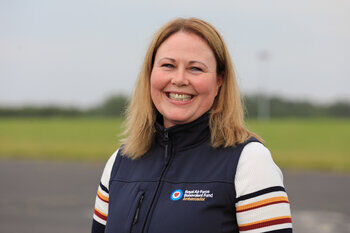 Jacqui's husband Gary Thompson, a reservist with the RAF Regiment, was killed in Afghanistan in 2008 when his vehicle was hit by a landmine.
They have five girls, and when Gary was killed, the Fund stepped in immediately with a financial grant to make sure they weren't in difficulty during the turmoil. It reassured Jacqui that she wouldn't face losing their home and would be able to support their daughters.
Jacqui said: "I cannot put into words how much we love and miss him. The RAF Benevolent Fund told me how they could help, and I knew then that we wouldn't face losing our home and I would be able to support our daughter, Jordan, through university. I want more people to know that, if the worst happens, the RAF Benevolent Fund are ready to help in any way they can."
You can listen to Jacqui's moving story in our podcast or in this short film.
Former Flight Lieutenant Joanna was injured during a training exercise which left her with a severed spinal cord. Joanna, a former RAF nurse,  was stationed at RAF Leuchars at the time, had been preparing for her second tour of Iraq.
The Fund stepped in to help Joanna live more independently following her injury, helping to pay for adaptations to Jonna's home to make it more accessible.
Sport has always played a major part in her life and it has certainly helped her on her road to recovery and dealing with her injury.
Joanna said: "I couldn't go back to live in my house and the RAF Benevolent Fund very kindly funded most of the renovation costs of an old bungalow for me, creating a wet room, adapting a kitchen, providing new windows, central heating and ramps.  Without all these features in place, I wouldn't have been able to live independently."
In 2008, Luke, a former Senior Aircraftman,  was mentoring a team of Afghan troops on foot patrol in Sangin, Helmand province, when he stepped on the IED.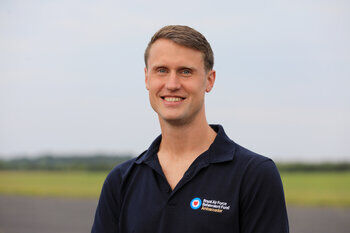 The blast threw him in the air, burning the skin off his left leg. Luke spent two months recovering in hospital, during which time he had no movement in his left leg.
After six years' service, he was eventually medically discharged from the RAF in 2013 and faced the daunting prospect of finding a new career.
"I expected my career in the RAF to last for the long term, it was the perfect job and I never thought I would be medically discharged.
"After I was injured I was forced to look at what I wanted to do next and think about a life outside of the RAF – it was a pretty worrying time."
Luke wanted to improve his driving skills and turned to the Fund to help him pay for an advanced driving qualification course.
The qualification also helped him when he later went on to train as an Emergency Care Assistant for East Midlands Ambulance Service.
"Without the RAF Benevolent Fund's support, I would have found it difficult to pay for my driving course," says Luke. "They've helped me to get on to the right path to find a career outside of the Service and assisted me to get back into civilian life."
Hear more about Luke's road to recovery here.
Matt joined the RAF in 2001 aged 16, straight out of school. He was deployed to Iraq in 2003 as part of Op Telic 1. His role as an MT driver loading the injured servicemen and women onto military aircraft for repatriation took its toll on his mental health and he was eventually medically evacuated himself.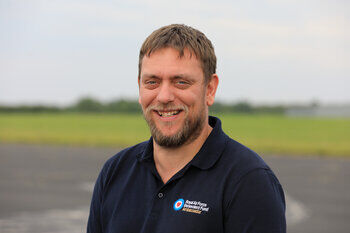 Matt was diagnosed with Post-Traumatic Stress Disorder (PTSD) – a condition which pervaded many areas of his life for over a decade. Ultimately, the condition affected him so much that he struggled to even tell his long-term partner, and now wife, Zoe about it.
But, with the support of the Fund, Matt discovered a new sense of focus, courage and conviction through archery training funded by us as part of his therapy. Practising the sport every week helped him switch off from his surroundings and let go of the past – giving him some breathing space after years of anguish. The Fund has also supported Matt, and his family, with some welfare breaks following his intensive treatment.
Matt says: "Sport has helped my recovery by giving me something to focus on other than my mental health; it helps me switch off and focus.  It makes me look forward to what I can achieve and aspire to. Most of all it makes me believe in myself."
Listen to Matt's story here.
In 2011 Mick, a former RAF Police Dog handler, was on patrol in Afghanistan searching for IEDs when his dog Memphis momentarily left his side and Mick stepped on a mine. Even though the IED only partially exploded, it caused irreversible damage.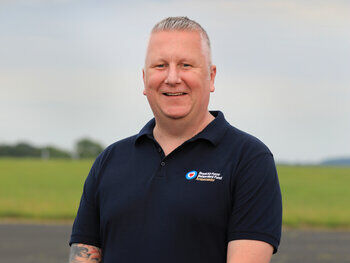 Mick's left foot had been shattered in the explosion and back in England he spent a month recovering in hospital with five-inch pins keeping his foot together. Despite years of rehabilitation, he made the difficult decision to have his lower leg amputated.
It was during this time he contacted the Fund for a loan. This enabled him and his wife Lorna, a former Flight Sergeant, to buy a more suitable home in Elgin, close to family.
"The fact that the Benevolent Fund has helped us to move from a house where it took me 10 minutes to get up and down the stairs to a home that's easily accessible and close to family where we can get support, has made a huge difference to our lives. They've lifted this unbelievable weight from my shoulders."
Hear how our support has helped Mick here.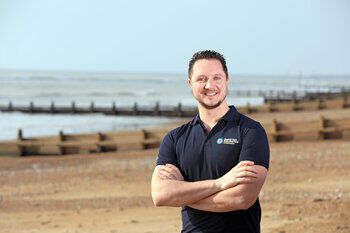 Former Senior Aircraftman Mike Goody was on patrol with the RAF Regiment in Afghanistan in 2008 when his vehicle struck an improvised explosive device (IED). Mike was trapped underneath the vehicle for three hours and the impact shattered almost every bone in his lower left leg.
After two and a half years of painful rehabilitation, Mike took the difficult decision to have his leg amputated below the knee.
Since then, the Fund has been by Mike's side, providing support during his rehabilitation and more recently as he came to terms with the death of his father. Mike has gone on to compete in the Invictus Games and now works with the Cadets. 
"The support the RAF Benevolent Fund have offered to me over the years, and even more recently, has enabled me to manage both my physical and mental recovery. I honestly don't know where I'd be without them."
You can listen to Mike's moving story in our special podcast or in this short film here.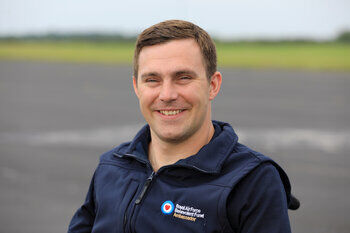 In January 2016, former Corporal Rob Bugden, who was aged just 31 at the time, was involved in a serious parachute accident whilst on exercise in California. After jumping, Rob remembers looking at his colleagues before he pulled his parachute cord and gave the 'thumbs up'. The next thing he recalls is waking up in a hospital in California. Rob had broken several vertebrae in his neck and severely damaged his spinal cord.
From the outset the Fund were there, initially, we gave his parents an immediate needs grant towards their costs of travel to the West Coast of the USA to visit Rob in hospital.
After Rob returned to the UK, and began his rehabilitation at Headley Court, the Fund helped towards a respite break, to give Rob some time away from hospital.
The Fund later stepped in to help provide Rob with a home suitable to his needs now and in the future. Rob said: "Without the Fund, there is no way I would have been able to get everything I needed to live comfortably. Everything in my new house was tailored to exactly what I wanted. I have ended up with an amazing house that is going to be home for a very very long time."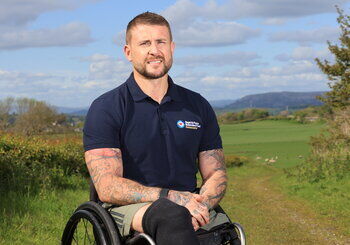 In 2013 Stuart, a former Corporal,, was on a routine patrol near Camp Bastion with 15 Squadron, RAF Regiment, when his vehicle hit the IED. T – the force was so strong that he was thrown 30 feet from the vehicle and the explosion left him with life changing injuries including the loss of his lower left leg and severe damage to his right leg and arm.
While recovering in hospital he took the difficult decision to have his shattered right leg amputated.
The Fund has supported Stuart with housing adaptations, helping him to remain independent and also funded some of his sports equipment to compete at an international level at wheelchair rugby. "The RAF Benevolent Fund have been there for my family through the hardest time. I was aware of their work but, of course, you never think you're going to need them – it's been reassuring knowing they are at the end of a phone whenever I have needed them." In September 2021, Stuart went on to become a Paralympic gold medallist at the Tokyo Paralympic Games with Wheelchair Rugby.
Hear more about Stuart's road to recovery in this short film here.
Our ambassadors in action