CCM Motorcycles is a family-run business, based in Bolton, founded by keen motorcyclist Alan Clews in 1971.
Founded in 1971 CCM Motorcycles have over 50 years of refining the craft of creating the finest British motorcycles. Every handcrafted bike, meticulously created with exact attention to detail and unwavering dedication to quality, demonstrates their commitment to craftsmanship.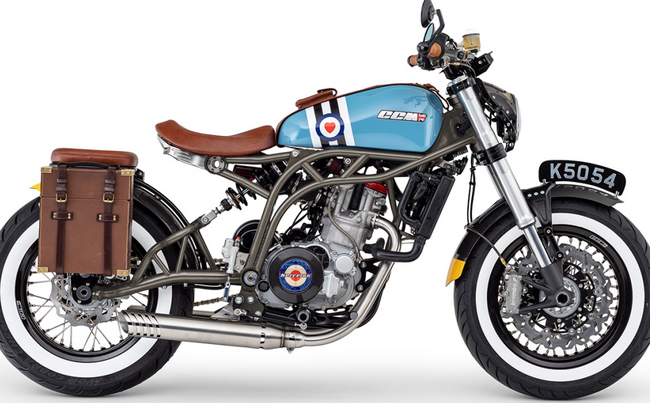 In a tribute to the centenary of the RAF in 2018, CCM Motorcycles unveiled an extraordinary, limited-edition motorcycle, meticulously hand-crafted and inspired by the 1936 prototype Spitfire K5054. This remarkable bike features a distinct colour palette adorned with iconic invasion stripes reminiscent of the D-Day landings. Gracing the seat is the signature of Sydney Hennan, a poignant homage to his service in the RAF and his role as the father of CCM founder Gail Clews, who tragically lost his life in service.

Each of these exclusive motorcycles incorporates a fragment of an actual WWII Spitfire wing section, adorned with a unique tail number harking back to a Second World War Spitfire. To complement this piece of history, an accompanying book delves into the spitfire's history.

Limited to just 100 units, each purchase of this exceptional motorcycle contributes £1,000 to the Fund, an initiative close to the heart of CCM Motorcycles.