Lawrie Haynes (Chairman)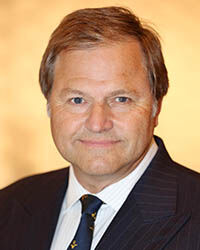 Lawrie joined the RAF as an apprentice at No 1 School of Technical Training, RAF Halton, in 1969 and served for nine years, mostly on 41(F) Squadron based at RAF Coningsby.
Lawrie joined Rolls-Royce plc on 1 February 2009 in the new role of President - Nuclear, with responsibility for both the civil and defence areas. In May 2013, he was appointed President - Marine and Nuclear at Rolls-Royce, taking on the leadership of both the Marine and Nuclear businesses. Lawrie was previously CEO of White Young Green plc, CEO at the British Nuclear Group and a main board director of BNFL plc. Prior to his retirement from Rolls-Royce in December 2016, Lawrie was (in June 2014) appointed as Chairman of Rolls-Royce Power Systems AG (formerly MTU Engines) and, simultaneously, as President of the newly formed Land & Sea Division, which included the Marine and Nuclear entities. He also sat on the Rolls-Royce Group Executive.
He has extensive experience in the aerospace and telecommunications sectors, and in the public sector. He also worked for five years as Chief Executive of the Highways Agency. Lawrie was a Non-Executive Director at Network Rail and was Chairman of the Safety Committee until July 2013. Lawrie also previously served on the Board of Louis Berger as a Non-Executive Director and, latterly, took the chairmanship of Magnox Ltd, responsible for the decommissioning of 12 nuclear reactor sites.
Lawrie has a degree in Business Law and was awarded an honorary doctorate in Engineering in 2011 from Heriot Watt University. He served as a trustee of the RAF Benevolent Fund from 2005 to 2012 where he was a member of the Finance Committee and Chairman of the Pension and Remuneration committees. He was reappointed as a trustee and Chair of the Board of Trustees in January 2014.
---
Patrick Aylmer
Patrick is a Chartered Accountant, with 20 years experience of investment banking and mergers and acquisitions. He is currently Managing Director of Fox Funding, a property finance business, and was previously Investment Director of a FTSE-100 corporate.
"I was really keen to join the RAF BV due to its unique position in helping the whole RAF family – whether they be serving, in the reserves, retired or dependents. It's a particularly interesting time for the fund due to the changing needs of its beneficiaries."
---
Frances Brindle
Frances Brindle is a marketing and communications specialist who has worked across a range of sectors and industries. Most recently, she was Director of Audiences at the British Library, where her team's responsibilities included fundraising and commercial revenue.
Prior to joining the library, she was Global Marketing Director at the Financial Times. She has a Masters degree in Virology from Oxford University and is currently writing a novel.
Both of her parents were in the Royal Air Force during the Second World War, her father was in Bomber Command and her mother was an officer in the WAAF. Frances was a member of the RAF Benevolent Fund Development Group before becoming a trustee of the RAF Benevolent Fund in 2014. She is now Chair of the Fundraising and Communications Committee.
---
David Cheyne
David Cheyne is a lawyer with over 40-years of experience in corporate and financial transactions. He was a Senior Partner of Linklaters until his retirement in 2011.
From 2011 to 2015, he was Vice Chairman of Europe, Middle East and Asia at the investment bank Moelis and Company. He also works as a consultant to other organisations and is on the Board of Blackrock World Mining Investment Trust. He has a law degree from Trinity College, Cambridge. He was appointed as a trustee of the RAF Benevolent Fund in 2014. He is now the Senior Independent Trustee and Chair of the Remuneration Committee.
---
Graeme Craig
Graeme Craig is CEO of the Omar Group, a leading UK manufacturer of residential park homes and luxury lodges.
Prior to that he ran the Beer Business at Shepherd Neame, Britain's oldest brewer, after joining them in 2006 as Sales and Marketing Director. Before this, he spent 12 years with PepsiCo across a number of commercial roles, latterly as Convenience Director.
Upon graduating from Glasgow University in History and Politics, Graeme joined the Royal Naval Reserve, serving for 12-years. Graeme became a trustee of the RAF Benevolent Fund in 2016. He is a member of the Fundraising and Communications Committee and the Remunerations Committee.
---
Wing Commander Sarah Davis
Wing Commander Sarah Davis is an HR professional.  She served in the Royal Air Force for 21 years having enjoyed a full career in numerous personnel, welfare, instructor, and media appointments both in the UK, overseas and on Operations.
She is a Fellow of the Chartered Institute of Personnel Development and has an MBA and MSc in Strategic Human Resource Management. She joined the RAF Benevolent Funds Main Grains Committee in 2018 and was appointed as a trustee in 2020.  She is Chair of the Main Grants Committee.
---
Alastair Irvine
Alastair is an Investment Director at Jupiter Fund Managers. He began his career in 1985 at stockbroker Laurie, Milbank & Co followed by over 20 years in equity research, including being a top-rated analyst and Deputy Head of Equity Research for Europe, Middle East and Africa at Merrill Lynch. Later, he was a Principal, Partner and Head of Portfolio Management at Triple Point LLP, a fund management house specialising in Venture Capital Trusts and Enterprise Investment Schemes. Among other charitable positions, he is also a Trustee of the Air Training Corps General Purposes Fund.
---
Wing Commander Marie-Noelle Orzel
Wing Commander Marie-Noelle Orzel is the Senior Nurse Advisor (Reserves) for the RAF and a Non-Executive Director of a mental health Trust. She completed her registered nurse training in the Queen Alexandra's Royal Naval Nursing Service, serving from 1979 to 1985. Her professional expertise is in accident and emergency, and children's nursing.
On leaving the Royal Navy, she worked in London and Oxford in both clinical and academic settings. She currently works in healthcare consultancy. Previously Marie-Noelle worked in a national role as an Improvement Director for NHS Improvement, supporting challenged healthcare organisations. Prior to this she worked as the CEO of North Bristol NHS Trust.
She joined the Royal Auxiliary Air Force in 1988 as an Aircraftswoman and was the first member of her squadron to be commissioned from the ranks whilst deployed in support of Operation GRANBY in 1991. She is still a serving reservist and, following deployment in 2003 in support of Operation TELIC, she was appointed Officer Commanding of 4626 Aeromedical Evacuation Squadron.
In 2013, she was appointed as the UK Vice President to the Confédération Interalliée des Officiers de Réserve. This is a NATO-related organisation that provides a forum for members to share reservist developments and discuss strategic issues underpinning the use of reservists.
She has completed a master's in advanced clinical Practice, a Post Graduate Diploma in Management and Leadership, and a Post Graduate Diploma in Education. She was awarded the Order of the British Empire (OBE) for services to the NHS and Nursing in 2005, and the Queens Volunteer Reserves Medal (QVRM) for services to the Reserve Forces in 2013, both in the Queen's Birthday Honours lists.
She became a trustee of the RAF Benevolent Fund in 2014. She is now the Safeguarding Lead Trustee and is a member of the Welfare Committee.
---
Air Vice-Marshal Elaine West
Air Vice-Marshal Elaine West joined the Royal Air Force as an aircraftwoman in 1978 at the age of 17 and was commissioned very soon thereafter. Throughout many tours across the RAF, she enjoyed a variety of mainstream personnel and infrastructure appointments in both Germany and the UK.
With her promotion to Air Vice-Marshal on 1 August 2013, she became the first female across the Armed Forces to hold 2-Star rank. Elaine assumed the role of Director Projects and Programmes at the Defence Infrastructure Organisation where she was responsible for the transformation of RAF Lyneham into a Defence Technical Training College, the provision of additional facilities at RNAS Yeovilton for the Wildcat helicopter platform, and provision of Defence Infrastructure for HMS Queen Elizabeth.
Elaine became a trustee of the RAF Benevolent Fund in 2016. She is a member of the Welfare Committee.
---
Richard Cryer
Since his retirement as Director of Finance and Estates at the University of London at the end of 2012, Richard has served in a number of non-executive roles including as treasurer/trustee of Amnesty International UK, as a governor of Worcester College of Technology, as a member of the finance committee of Mencap, as a non-executive director of Gloucestershire Care Services NHS Trust, and as treasurer/trustee of Aspire Living (a charity providing services to people in Herefordshire/Gloucestershire with learning disabilities).
He is currently a member of the audit committees of the Institution of Civil Engineers, the Biochemical Society and the Council for Licensed Conveyancers. In addition, Richard is treasurer/trustee of the Royal College of Speech and Language Therapists, the Herefordshire Wildlife Trust and the Monmouth Big Band where he plays baritone sax.
Richard will shortly be standing down from the position of treasurer/trustee of the charity Action for Children where he is also a trustee director of the Action for Children Pension Fund. Richard is a chartered accountant having qualified with KPMG and subsequently spent over 20 years working in the financial services sector in the City of London with a number of European insurers including AXA. Following this he worked as a director of finance in higher education for some 13 years.
"I was motivated to apply to become a trustee of the Fund as I have both seen and learnt first-hand about its highly valued work in supporting past and present members of the RAF Family by virtue of Action for Children's partnership with the Fund in the provision of Airplay. I am greatly looking forward, as a trustee, to having the opportunity to assist the Fund in continuing with its work."
---
Alison Benjamin
Alison Benjamin is a fundraising professional with 20 years' experience working in the third sector. Currently Director of Fundraising at a national youth charity, OnSide, she previously spent much of her career working at King's College London and for the NHS charities associated with the university's health partners, including Guy's & St Thomas' Charity and the Maudsley Charity.
After gaining a degree in Politics with International Studies at Warwick University, Alison spent two years in central China with the Voluntary Services Overseas. Alison's links to the Armed Forces are through her schooling and her father, who served in the Royal Navy and the Ministry of Defence. Alison became a Trustee of the RAF Benevolent Fund in 2021 where she also sits on the Fundraising and Communications Committee.
---
Allyson Arnold
With over 20 years' experience in a variety of health and social care settings, Allyson has worked alongside a variety of national and international organisations including WHO, CDC, USAID, NHS England, Public Health England and Academic Health Science Networks. Following a career in nursing and midwifery, Allyson obtained a Masters in Development Management and started work in international development, directing health programmes in Kenya and Afghanistan.
After returning from overseas, Allyson specialised in third sector management, holding senior management roles with Cancer Research UK and the British Heart Foundation and is currently the Chief Operating Officer for the British Heart Foundation Clinical Research Collaborative. She has been married to an RAF officer for over 20 years and has travelled extensively with the RAF, working closely with families, serving personnel and veterans. She is deeply passionate about and committed to the RAF family and is looking forward to using her lived experiences to help support the RAF Benevolent Fund continue its vital work.
---
Sarah Casemore
Sarah is the Managing Director for a registered charity raising awareness, addressing the stigma of poor mental health and promoting positive mental wellbeing across workplaces focusing on construction, transport and logistics. Previous roles include Director of Operations at Relate leading the nationwide service delivery which includes the support of veterans and those currently serving in the RAF through the popular online portal alongside subsidised relationship counselling for individuals, couples, dependents and families in addition to mediation. As Director of Operations at The Poppy Factory a nationwide military charity, she led the award-winning employability service supporting over 350 veterans with physical or mental health conditions into employment each year.
In addition, Sarah brings 25 years' experience of working in the NHS – starting as a chartered physiotherapist, progressing to being a Director of Commissioning, a GP practice manager and finally worked as Director of Operations managing General Medicine and emergency care at Frimley Health NHS Foundation Trust, home to Defence Medical Group South East for over 20 years. Sarah has two sons, two stepchildren and her husband is currently serving in the RAF.
"Having worked closely with trustee boards in an executive Director capacity, I was looking for the right opportunity to gain experience myself as a trustee and appreciate the role from a different perspective. Being accepted into such a valued, well respected and established organisation, I am keen to bring both my lived and career experience into my role as a member of the Trustee Board and Welfare Committee.
"With my husband currently serving in the RAF, and having previously lead services in 2 charities that received grants from RAF Benevolent Fund - I really appreciate the wide range of support and funded services that are available to serving personnel, veterans and their families on an individual basis. I am proud to be a new trustee of RAFBF and contribute to the strategic direction as we come out of the post COVID phase and look to the future."