Adelphi Distillery, established in 1826, is an acclaimed independent bottler of rare Scotch whisky.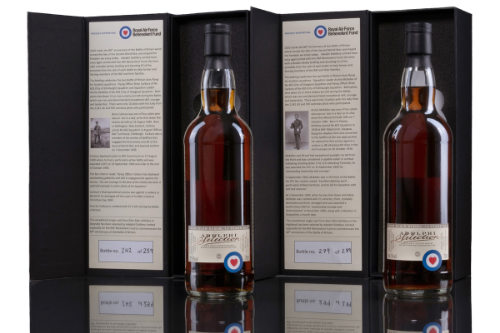 In 2020, to coincide with the 80th anniversary of the Battle of Britain, Adelphi Distillery supported the Fund through donations from the proceeds of two limited edition whisky bottlings.
The bottles celebrated two Battle of Britain aces, who flew for Scottish squadrons: Squadron Leader Archie McKellar of No 602 (City of Glasgow) Squadron and Flying Officer Brian Carbury of No 603 (City of Edinburgh) Squadron. They were two of only 10 pilots that shot down 15 or more enemy aircraft during the battle, a rare occurrence demonstrating courage and skill.
A single cask from the Blair Athol Distillery, in the Highlands, was chosen to commemorate Archie McKellar. McKellar was awarded a DFC and Bar in 1940 as well as a posthumous DSO, both for outstanding leadership and courage.
A single cask from Glen Elgin Distillery in Speyside was selected to honour Brian Carbury. He was awarded a DFC and a Bar in 1940, the Bar citation reads, 'Flying Officer Carbury has displayed outstanding gallantry and skill in engagements against the energy. His cool courage in the face of the energy has been a splendid example to other pilots of his Squadron'.
A very limited number of bottles were produced, and £5 from the sale of each was donated to the Fund.
For further details on this whisky, visit the Adelphi Distillery website.