Founded in 2012, multi-award-winning Windswept Brewing Co. produce a wide range of traditional and contemporary craft beers.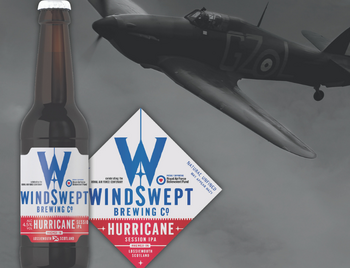 Windswept Brewing Co. founders, Al Read and Nigel Tiddy, are both former RAF pilots. Their love of the outdoors was always balanced by the beer they enjoyed at the end of each day. That's exactly what led them into the world of hops and grains.
The brewery is located in Lossiemouth on the Moray coast and the name is inspired by the nearby windswept beaches where like-minded adventurers gather to pursue their outdoor passions whatever the weather.
They use only the finest ingredients including Speyside water, malted grains, whole hops and fresh wet yeast which they propagate on site. They use traditional brewing processes and that gives the beer plenty of time to condition before it leaves the brewery.
Having both been pilots, both Nigel and Al wanted to mark the Royal Air Force centenary year in 2018. They came up with Hurricane which is a 4.5% ABV session IPA with fantastic fruity aromas and flavours.
The beer commemorates the achievements of the RAF over the years as well as acknowledging the support the Fund has provided to the RAF Family since 1919.
Windswept Brewing Co. donate 5p per pint sold to the Fund. Single bottles are available to purchase for £2.60 and a 12-bottle case for £31.20 via their online shop.