ON THE RADAR
Welcome to On The Radar, the RAF Benevolent Fund newsletter which informs you of the support we give to the RAF Family, and exciting events coming up.
We're always here to support you, no matter what life sends your way. The RAF Family is the reason we're here, whether you served for days or decades.
In the latest edition of On The Radar, you can find out all about our services to improve your wellbeing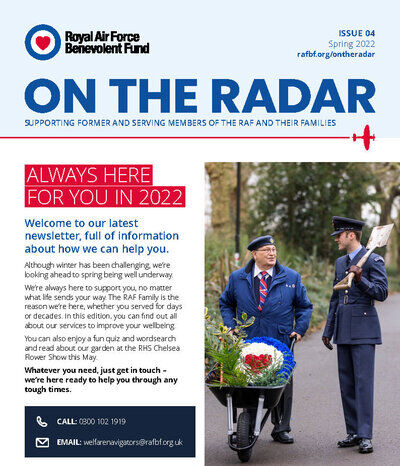 RAF veteran Colin Stegeman tells us how our bereavement counselling and being part of one of our Telephone Friendship Groups helped him rebuild after his wife died.
Fund Ambassador Jacqui Thompson talks about the support we gave her when her husband Gary – a proud member of the RAF Regiment – was killed in action 14 years ago.