Airplay and Ben Clubs are the RAF Benevolent Fund's youth support programme, providing youth club sessions on RAF stations and access to the digital platform Airplay Connect, developed for children living on and away from stations.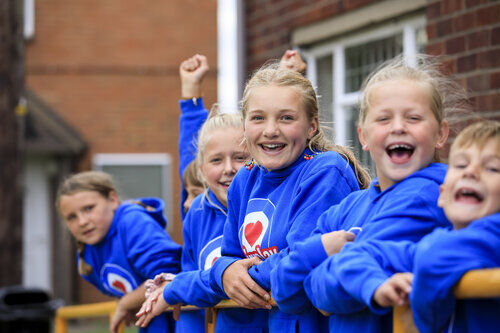 Growing up as part of a military family provides children and young people with a number of unique challenges and opportunities and Airplay aims to support and celebrate these by providing a safe place for youngsters to spend time with their peers, develop skills and enjoy a wide range of activities.
Why did we create Airplay?
We developed Airplay back in 2010 in consultation with the RAF after serving families identified keeping young people safely occupied was a major concern.
We know that young people in RAF families face unique challenges – long periods separated from at least one parent, moving around the country to new stations (often in isolated, rural locations with minimal facilities), and having to start at new schools and make new friends on a regular basis.
We recognise that it's not always easy and we wanted to help.
Airplay is designed to address these issues by giving children and young people access to facilities and a safe, stimulating programme of activities and some much-needed continuity if and when their family relocates.
What is Airplay?
There are two main elements to the Airplay programme.
Airplay Youth Support: Airplay is delivered at 24 stations across the country. We provide safe, supervised activities for children and young people aged five to 18 through a network of trained youth workers. This includes our Ben Clubs which are aimed at children aged five to seven.
Airplay Connect: A safe and secure digital resource for all RAF children and young people to access and enjoy. Airplay Connect allows Station Youth workers to reach children who might live away from RAF stations or even overseas and engage them in activities with their peers in the RAF Community.
Airplay is delivered by One YMCA, part of the YMCA Federation and a leading Youth Work organisation.
Airplay Annual Review 2022
Inside the Airplay Annual Review, you will find more information on how the Airplay project has improved the confidence, self-esteem and sense of belonging among Airplay members. Children involved in Airplay feel reduced stress in their everyday lives, and have identified improvements in their mental and physical wellbeing. Understand how Airplay is delivered on stations and online, and find out what the next steps are for the project, by taking a look at the Airplay Annual Review 2022. 
To find out more, contact your local Airplay project: