We are honoured to maintain both the RAF Memorial and the RAF Bomber Command Memorial for the nation, in perpetuity.
RAF Memorial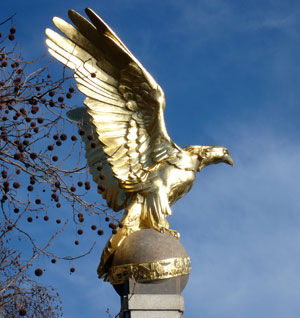 This is the official memorial of the Royal Air Force and its constituent services. Built of Portland stone, the Memorial is topped with a gilded eagle, looking south towards France. It is a striking tribute to the brave men and women of the RAF – past, present and future.
The RAF Memorial has stood on the banks of the River Thames since 1923. The RAF Benevolent Fund's original charitable object was to raise a memorial to airmen who died in the Great War.
In 1946 additional inscriptions were added in memory of those who died in the Second World War. On 15 September every year the Chief of the Air Staff places a wreath at the foot of the Memorial to commemorate Battle of Britain Day, and every Remembrance Day the Fund lays a wreath.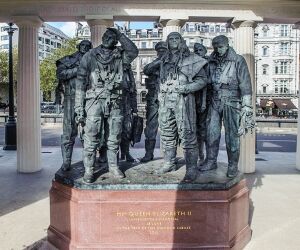 Unveiled in 2012 by Her Majesty The Queen, the RAF Bomber Command Memorial stands as a tribute to the 55,573 Bomber Command air crew who lost their lives during the Second World War.
Located in London's Green Park, the Bomber Command Memorial has been built to be modern, yet classical, in Portland stone. At the heart of the Memorial are the bronze sculptures of a Bomber Command crew having just returned from a mission.
Visit our Bomber Command Memorial site to learn more about the Memorial and the role Bomber Command played during the war.
Keep in touch with us
Provide your email address to receive regular email updates on all of the RAF Benevolent Fund's latest news, events, stories and ways that you can help.