We are pleased to partner with Taking Care, the largest private provider of personal alarms in the UK.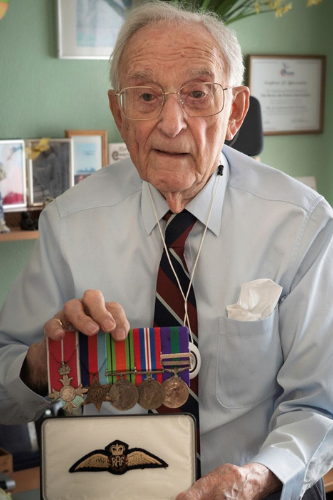 Taking Care are part of AXA Health, and have been helping customers to stay independent and continue to live in their own homes by providing personal alarm services for more than 30 years. One such customer is 99-year-old, retired Squadron Leader A. Garretts MBE who had an impressive and varied 30-year career in the RAF. Mr Garretts first got an alarm from Taking Care when his wife became unwell some years ago. The alarm gave him and his family peace of mind that help was always available when needed and allowed Mr Garretts to pop to the shops without the fear of leaving his wife alone. When Mr Garretts' wife sadly passed away, he took over wearing the personal alarm in order to stop his children worrying about him living alone. 
Taking Care have committed to supporting the RAF Benevolent Fund through a donation on the sales of their products made through the RAF Benevolent Fund landing page on their website. This support will help us to continue our vital work, including providing the support which helps older members of the RAF Family continue to live in their own homes with dignity.
Taking Care will donate £40 to support our work for each personal alarm product sold via the page on their website about this partnership. The telecare products and services which Taking Care offer are provided by that company, not by the RAF Benevolent Fund, and the Fund does not bear any responsibility for the services and products which Taking Care offers.;
Visit their website to find out more.