For some people gambling is not a harmful activity, but it can become a serious problem.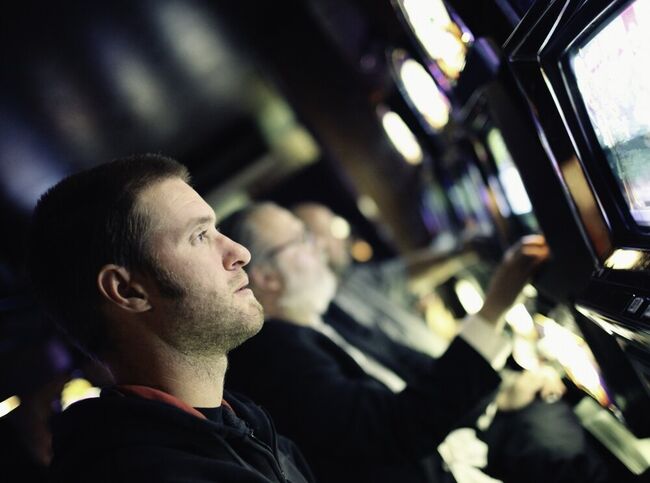 Gambling can be a fun way to pass the time, perhaps when you're at base or in a group. However, gambling also has the potential to cause a variety of negative impacts if it becomes a way to cope with boredom, loneliness, anger, stress or anxiety. Over time, the more you gamble, the more you're likely to lose – and this might not be just money.
The RAF Benevolent Fund is working with GamCare and AnonyMind to raise awareness of when gambling can become a problem and to help serving personnel and their loved ones to get help if and when they need it.
How can I keep myself safe?
A problem with gambling can not only have an impact on your finances, but your relationships, mental wellbeing and work life can suffer too. If you need to concentrate, but you're thinking about gambling instead, this can have serious consequences for you and the people around you.
It can be easy for people to convince themselves that their gambling behaviour is not the most pressing issue they have to deal with, that if they keep gambling, they will win their money back and their financial worries will be over. Gambling is never the solution. If you think it may be a problem for you, the longer you leave it and continue to gamble, the worse it will become.
GamCare hears from many people who say that their gambling behaviour has led to them lying to the people they care about and created a sense of isolation that they don't feel they can overcome. Some people feel like ending their lives because of how their gambling behaviour has impacted them. It is important to know that you are not alone in this, a range of free and confidential support is here for you.
Only spend what you can afford
Always keep in mind that you are more likely to lose the money you stake than you are to win any more. Don't gamble with money that you need for other important things.
Set your limits for time and money
Decide how long you would like to gamble for, and how much money you have to play with, before you begin. When this money is gone, or your time limit is reached, it's time to step away.
Make clear decisions
Emotions like anger, sadness or a feeling of general stress can make it more difficult to make clear decisions. This can lead to you losing money you can't really afford and potentially damaging important relationships. If you're feeling low before you start, gambling won't make you feel any better.
Don't let it interfere with your life
If you spend too much time or money gambling, you may miss out on other important events and activities, including spending time with the people you care about. Keep gambling balanced with other things you enjoy and other social activities too.
Don't try to get away from your problems
Gambling is most definitely not a way to make money or to fix something else in your life that you are not happy with. Some people win big, but this is not as often as it may appear. Over time, the house always wins. Any other problems you have will probably only be made worse if you gamble as a way to get away from them.
In the last 12 months, have you
Bet more than you could really afford to lose?
Had to lie to people important to you about how much you gambled?
Have you ever felt the need to bet more and more money?
Felt guilty about the way you gamble, or what happens when you gamble?
If you answered yes to any of these questions you may have a problem with gambling. Overcoming these problems is possible. If you are worried, or you feel that your gambling is starting to get out of control, help and support is available.
AnonyMind Support Services
The RAF Benevolent Fund has partnered with AnonyMind to provide free access to phycological therapy treatments to help people overcome gambling problems, manage behaviours, and move on with their lives.
AnonyMind offer access to a team of caring, professional gambling addiction recovery therapists. All therapy is done through online video calls, you don't need to travel anywhere, and all of your information is kept secure and will not be shared with anyone without your consent.
To find out more about this service and how to access it please call the Fund's confidential Wellbeing Services helpline by calling 0300 222 5703 or emailing support@rafbf.org.uk.
GamCare Support Services
If at any time you feel like gambling may be becoming an issue, talk to GamCare – they are here to help.
GamCare offer free information, advice and support for anyone negatively impacted by gambling. They operate the National Gambling Helpline, either over the phone or via web chat, plus a moderated online Forum and daily chatrooms where you can talk online to others in similar situations. These services are available every day.
GamCare and their partners also provide a range of free treatment services. These are a safe, confidential space for you to talk and to better understand the causes of harmful gambling behaviour, the effects it has on your life and how you can find strategies to make positive changes.
You can access these services face to face if you're near a treatment centre or you can receive help online or over the phone. Online support is also available if you are deployed overseas. Whatever you share will remain confidential and your colleagues won't know unless you decide to talk to them about it.
Take a look at our web page on the the GamCare website. Alternatively, you can speak to an Adviser on the National Gambling Helpline, on 0808 8020 133 or our via web chat.
Self-help workbook
This resource will assist anyone who has recognised that gambling may be an issue for them. The workbook is designed to help you and allow you to work at your own pace. If at any time you would like additional support, you can speak to the GamCare team.
The workbook is available as interactive PDFs which means you can download the files and then type straight into them, keeping changes in your own device as you go along. You can also print the pages if you prefer.
Gambling and Wellbeing Research
Our report Gambling and Wellbeing in the RAF is the first research to look exclusively at the extent of gambling as an issue among serving RAF personnel, as well as other related health and wellbeing issues such as alcohol use and mental health. The report also explores how members of the RAF community can be better supported. For the first time, it sheds a detailed light on gambling and associated wellbeing issues within a single service. 
Worried about debt?
If you have concerns about your finances, there are other organisations who can provide free money and debt advice.