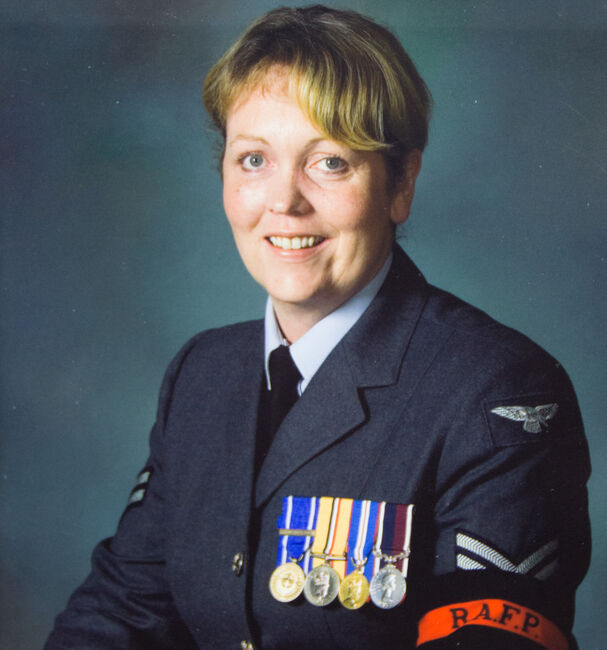 "The Fund has been like another family to me since my MS diagnosis"
Working in the RAF as a police woman for two decades, being an active runner and taking part in multiple expeditions over the years, Ann Hughes has always taken on challenges that test her mental and physical health. But nothing could prepare her for secondary progressive multiple sclerosis (MS) diagnosis in 2007.
Ann started her career in the RAF police in 1990 with jobs including guarding nuclear weapons, counter intelligence and being part of the drugs squad. She did a tour in Iraq for four months and detachments in Italy and Cyprus, as well two postings in Germany, where Ann stayed for five years. Ann met her RAF fireman husband Mick while they were both stationed in the Shetland Islands and had their daughter Lauren, now 23.  
Ann was medically discharged from the RAF in 2009, two years after she was diagnosed with secondary progressive MS, due to the deterioration of her condition.
She said: "It took a while to get my diagnosis – I was experiencing symptoms for many years before. My MS affects walking, my eyes, everything really. I get a lot of spasms and fatigue, and can't walk far without a crutch – I have to use a wheelchair for distances."
Ann has paid into the Fund via the Service Day Pay Giving scheme since starting her career in the air force, however she never thought she'd need to use the Fund's services. But, after being medically discharged, Ann felt depressed and physically unwell and struggled living in married quarters, so she contacted the Fund for support.
Ann said: "It was frightening. After being in the air force for so long, I didn't know what do knowing I had MS – I was lost. I don't like asking for help but I'm so glad I contacted the Fund.
"They stepped in to help me with my mobility and adaptation needs and found house which we now rent. They adapted the whole place and also provided me with a mobility scooter on a permanent loan. I can't tell you how much it has benefitted me. The Fund has been like another family to me."
Talking about her own family, Ann said: "My daughter Lauren was only eight years old when I was diagnosed. She, along with my husband Mick have been a huge support – it hasn't been easy for them."
The Fund has also enabled Ann and her family to have two breaks with the Disabled Holiday Trust in Anglesey and Devon.
And this May, Ann is taking part in the Veteran Games in Israel on behalf of the Fund where she will participate in sporting, social and cultural activities with other military veterans and their family members. 
Excited about the week long event, Ann said: "I've never been to Israel so I'm looking forward to seeing the sights learning about the history.
"I used to be so active and took part in sailing, skiing and mountaineering expeditions but since leaving the RAF I haven't been involved in these sorts of activities which has left me feeling quite isolated. It will be great to connect with other veterans with similar interests and experiences."