While Christmas will be very different for the majority of the UK this year, under Covid-19 restrictions for one RAF family it couldn't be further away from their usual celebrations as they set up home in Florida.
Lisa and Craig Richards, who hail from Wales, have found themselves living in England thanks to Craig's job as an avionics technician in the RAF. For the last 11 years, they've called RAF Odiham home and headed back to visit family in Wales in the run-up to Christmas, preferring to spend the actual day at home with their boys Cai, four, and Rhys, nine.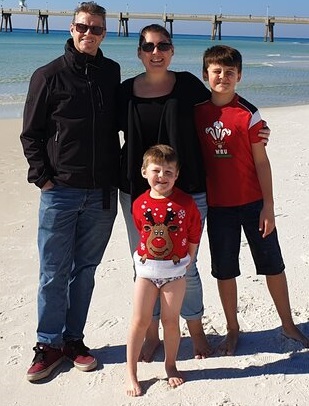 Lisa says: "We have been quite lucky as a family as we have only had the one Christmas apart while Craig was deployed to Minhad a few years back. It was definitely our toughest Christmas and I always spare a thought for other families spending Christmas apart. Christmas this year will seem so strange being so far away from family having only seen them once since last Christmas!"
This year a family farewell Christmas get-together planned for November had to be cancelled as the country entered lockdown two. And now the family will spend the next three years living in Florida as Craig takes up a new role on the ACURL team (Australian, Canadian, UK reprogramming lab).
Lisa added: "This is our first posting abroad. Rhys was almost one when he went on a plane and so doesn't remember it. Cai had never even been on a plane prior to travelling here and so it was a massive adventure for us all!
"It wasn't a difficult decision to make as we knew that it was going to be an amazing opportunity and experience for us all! Both of the boys were excited to
As the family look forward to celebrating a very different Christmas this year, they do so with the peace of mind that the RAF Benevolent Fund are by their side.
Lisa concluded: "In the past, we have enjoyed a welfare break on the south coast, thanks to the RAF Benevolent Fund. It was the perfect setting to relax and enjoy time with the family."