After 60 years together, 57 of them married Les Campsie knew he'd lost his soulmate when his wife Patricia passed away a year ago. Devastated and bowled over by his grief, RAF veteran Les turned to the RAF Benevolent Fund for help. In this blog to mark Dying Matters Week, 86-year-old Les explains how six free counselling sessions with Cruse Bereavement Care helped to set him on the road to recovery.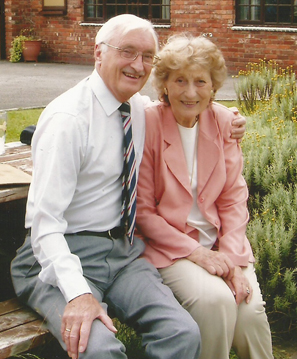 Patricia and I had a wonderful relationship and we have a wonderful daughter, three grandsons, a great grandson and a great granddaughter. She suffered from dementia in her later years and I nursed her for about four years. It was a lovely experience in some ways because it brought us closer together.
She went into hospital for a few months and during that time we moved into a bungalow closer to my daughter. Sadly she only lived there for eight weeks before she passed away.
For me counselling was the first step out of grief, it rescued me from a very dark place. It was hard at first but gradually you can talk about it and it brings you take the next step. Talking to a third party outside of the immediate family is very helpful because you can talk openly, without fear of giving grief to someone else.
I found I lost all my confidence when Patricia died, I found decision making very difficult. I just felt inadequate.
Counselling really helped to give me the courage to get out and about again, to re-join organisations I had given up when Patricia became so ill. Now I'm a regular member of my local Probus club, Masonic Lodge, and I go to the gym three times a week. It's even given me the confidence to book my first holiday in years.
You have got to take one step at a time. You'll never forget your loved one but there comes a time when grief doesn't have the upper hand. Do not be too proud to ask for help or to go for counselling. The only way you can begin to get over grief is to face it.
I think the RAF Benevolent Fund is absolutely wonderful to provide this service to veterans like me. I don't know where I would be without them.
Les completed National Service with the RAF from 1950 to 1952 serving as a postal clerk. Les has gone on to join the Fund's Telephone Friendship Group, which involves a weekly phone call with like-minded RAF veterans, something he says is a real lifeline.