Some will know Jack Perry as the youngest member of The Guinea Pig Club, but to his son, Andrew Perry, Jack is his mentor, friend and above all else, Dad! In this guest blog Andrew tells us what his father means to him.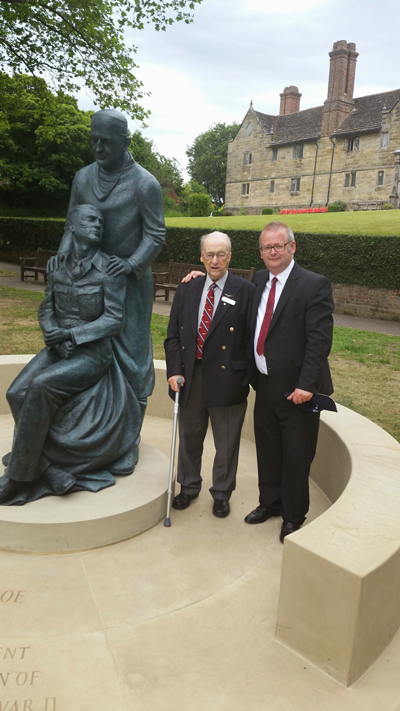 Dad was a flight engineer on a Halifax bomber when it crashed in 1944 during the Second World War; he was just 19 years old. The plane exploded almost immediately after take off and he was thrown from the wreckage.
He remembers holding his arms and hands up to protect his face, which explains how he suffered such extensive burns to his hands, face and ears. During his recovery, he was a patient at Queen Victoria Hospital, undergoing 31 operations during his stay and became a member of The Guinea Pig Club.
A few years after my Dad's injury he met my Mum, Mary, while convalescing in Marchwood Park. She would attend the dances there but moved to Jersey a short while after and requested that my Dad write to her if he wanted to continue courting. My Dad persevered and despite Mum's father disapproving, they married in March 1950. They celebrated 65 years of marriage this year!
One of the most vivid memories I have growing up, was when I found a book called The Guinea Pigs on our bookshelf in the lounge. I picked the book from the shelf and a small pile of photos fell from the pages. They were photos of Dad, some of them quite graphic, from when he first sustained his injuries.
I just remember being really shocked to see my Dad that way and that was the first time I fully grasped the severity of his accident. He has always been really open about his time in the RAF and tells me lots of his tales, although most of them are too rude to repeat!
I have a huge respect for him; he is my mentor and friend as well as my father. I am exceptionally proud of him and everything he has accomplished and I know I am incredibly lucky and blessed to be able to call him Dad.
Dad has been the Club's Social Secretary for 40 years, which naturally keeps him really busy. Growing up the chaps from the Club were always around the house, they were all friends and seeing men with burns and disabilities was the norm for me. They've all been through hell and back but they always seem to have a laugh and use their fantastic sense of humour to get by! They really are a band of brothers.
This year, we will be celebrating Father's Day at one of my family's favourite restaurants, where we often go on special occasions and where we also celebrated Dad's 90th birthday. It will be Mum, Dad, my sister Jane and I, toasting to a great man, our Dad!
Visit The Guinea Pig Club homepage