On 18 January 2016 the oldest person we have supported – and the UK's oldest person, Gladys Hooper, celebrated her 113th birthday. Her son, Derek, a former pilot who flew missions during the Berlin airlift, tells us more about this remarkable supercentenarian.
She was born in 1903, the year the Wright Brothers made the first powered flight, carmaker Henry Ford produced the first Model A Ford and Emmeline and Christabel Pankhurst set up the Women's Social and Political Union.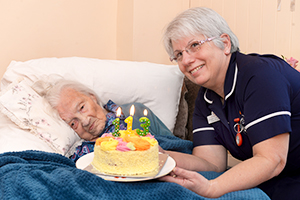 On Monday Gladys Hooper celebrated her 113th birthday at the nursing home where she now lives on the Isle of Wight. The day before the great-grandmother was surrounded by 20 family members who came to celebrate with her.
Derek says: "She's a remarkable lady. She has never taken a pill in her life. She's never smoked, she likes the odd glass of sherry now and again. But she has always been active."
Gladys was born in Dulwich, south London. In her early years she had seen much happen in history. In 1916, she witnessed the German airship Schtitte-Lanz SL 11 being shot down by Leefe Robinson, who was later awarded the Victoria Cross for his actions. Gladys also met Thomas Edison, co-inventor of the light bulb, when he visited her school.
Gladys went to college with aviator Amy Johnson, the first woman to fly solo from England to Australia and they became friends.
In 1922, at the age of 19, Gladys married Leslie Hermiston Hooper, who was a pilot in the Royal Flying Corps in both the First and Second World Wars. Leslie joined the Royal Flying Corps when he was just 17.
Gladys's school encouraged girls at the time to write to men on the Front and Gladys wrote to Leslie. Four years later they were married.
She became an accomplished concert pianist, and played with famous bandleaders such as Jack Payne, Debroy Somers and Maurice Winnick.
Recently the RAF Benevolent Fund supported Gladys' care with top-up fees, for which Derek is extremely grateful.
"Care home fees are very expensive and every penny is helpful. We are all extremely grateful to the RAF Benevolent Fund for their support."