The Late Battle of Britain veteran Stan Hartill worked as a member of the ground crew on the early Mark II Spitfires.
It was hard work and long days, with the crews often working 15-hour days. Stan, who received support from the RAF Benevolent Fund when he was struggling to pay the maintenance charge on his flat, told us what it was like being a member of the ground crew during the Battle of Britain.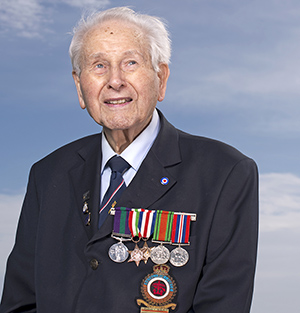 "The ground crew felt we had a very important part to play in the Battle of Britain because our job was to keep the Spits flying and without the Spits the pilots were of course useless. We would start very early, sometimes at 7am and go to our dispersal point at Middle Wallop.
"We had to do a daily inspection of every aircraft. I'd check the Spit over, see that everything was working and then sign a log book saying I'd checked it over and it was ready to go into action.
"Then when they came back it was a matter of getting them airworthy as quickly as possible.
"Sometimes they'd be back very late from a sortie, it would be dusk before some pilots were home. Luckily there was a local canteen run by the officers' wives where we could get egg and chips until 11pm - that was very handy for the ground crew boys!
"But we'd be up ready to start all over again the next morning.
"At our dispersal we had 12 Spitfires to look after. I remember one day a pilot saying to me, 'Stan, the underbelly of my Spitfire is pale blue. The reason for that is if I'm flying above the Germans they can't see me against the sky. It's got oil streaks running down the blue and it's quite discernible – would you mind in future cleaning the oil marks off so I have a completely blue undercarriage.'
"I was a little cheesed off by that but afterwards I thought, it's his life at risk, not mine and it wasn't much to ask me to get some rags and clean his Spitfire – which I did regularly everyday after that for him."
Visit the Battle of Britain homepage