This Saturday, thousands of people will tune in to watch the closing ceremony of the third Invictus Games, held in Toronto. For Michelle Partington, who is competing in rowing and powerlifting, her time at the Games has seen her gain two personal bests and support from all over the world. In this guest blog, Michelle tells us more.
I served in the Royal Air Force for 20 years and was the first frontline medic in the RAF Regiment.
I joined in May 1991 and I really enjoyed my time in the service. It was all I'd ever known and it was definitely where I saw my future.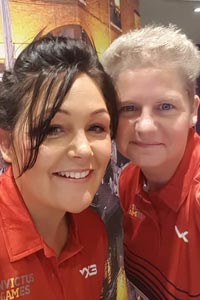 I completed three tours in Afghanistan with the medical emergency response team but it was during my fourth deployment that I knew things weren't quite right.
In 2012, I was diagnosed with Post Traumatic Stress Disorder and subsequently medically discharged from the RAF.
I was unable to leave my house and was suffering severe panic attacks.
I began to feel increasingly low and felt as though there was nowhere for me to turn. For a couple of years I was in bits.
I recently took on full-time employment – the first full-time job I've had since leaving the military.
When I was applying for jobs, I felt like as soon as I mentioned PTSD I was at a disadvantage. There is definitely a lack of understanding about mental health issues and I knew other candidates were getting picked over me.
I'd never competed in sports before, so when I received the initial Invictus email asking me to try out, I deleted it! Then I thought to myself, 'what have I got to lose?'
Living with PTSD is difficult, I constantly feel misunderstood. But my team mates at Invictus, who are all battling their own issues, are supportive and understanding. It's great to feel part of something again. I don't need a medal, I'm already a winner and I've found a lifelong friend in my teammate Michelle Turner and that beats anything else.
In October 2015 Michelle decided to set up her own Foundation to support veterans suffering with mental health issues. The RAF Benevolent Fund, the RAF's leading welfare charity, funded a two-year counselling course, enabling Michelle to train as a counsellor.
Michelle came 5th in powerlifting and achieved two personal bests in rowing.