Steven Brereton Martin has spent 32 years of his life in the Royal Air Force, 29 of them serving with the RAF Regiment. From Scotland to Singapore, he has been deployed all over the world but for Steven, one thing is certain – the support and camaraderie of his fellow Gunners.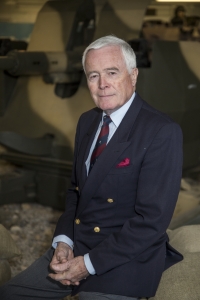 This year marks the 75th anniversary of the RAF Regiment. I am proud to say I have served for 29 of those 75 years, and so my time covers a fairly broad spectrum of RAF Regiment history. If you ever say to anyone you're a Rock Ape you're already a brother in arms and yes it is a brotherhood and it means a huge amount to the Gunners. I regard the people who I have served with as very special indeed.
I joined the Royal Air Force as an Officer Cadet in 1962, which began with three years basic training at RAF Cranwell. Following that I was briefly posted to the RAF Regiment Depot at RAF Catterick and later to No 1 Squadron RAF Regiment in the spring of 1966. The unit was then a light anti-aircraft Squadron, operating out of RAAF Butterworth - an Australian base in Malaya - and at the time, involved in so-called 'confrontation' - an undeclared war with Indonesia.
My role was in control and reporting. I had eight observation posts deployed around the area and at that time of course we didn't have surveillance radar so they had to be manned full time scouring the skies for incoming Indonesian aircraft. Fortunately there never were any but it was an interesting time.
I was then cross-posted to No 63 Squadron RAF Regt at RAF Tengah in Singapore which, like 1 Sqn, was equipped with 40/70 Bofors, weapons that can fire 240 rounds a minute. As confrontation subsided, we were tasked with other duties such as internal security, which became useful later on in my career when I was posted to Northern Ireland!
In April 1975 I was posted to command No 27 Sqn RAF Regt. At the time, the Squadron had just retired as a Bofors unit in Cyprus and was due to migrate over to the Rapier systems. We formed at RAF North Luffenham and apart from myself, a graduate of the Gunnery Staff Course, and one or two others, none of the other personnel had any Rapier experience, which meant a great deal of training. After being declared operational the Squadron was posted to RAF Leuchars in Scotland in 1975 and two years later I handed over command.
Later, I became Station Commander at RAF Catterick and had a fair amount of dealings with the RAF Benevolent Fund as we would often refer cases to them. I think most Gunners of today think of themselves as being invincible and that they're never going to need any help.
But the RAF Benevolent Fund is a huge insurance for them in that, just when you think you're never going to need them, you do and then when you do, you need it in spades!
Further information
If you served in the RAF Regiment, or are currently serving, and need support, please get in touch with us today.
The RAF Regiment Heritage Centre is based at RAF Honington and is open on Tuesdays and Wednesdays. To visit, you must pre-register first on the website.
Visit the RAF Regiment homepage