Former Lance Corporal Darren Kamara served in the RAF Regiment for seven years between 2006 and 2013, completing two tours of Afghanistan and one tour of Iraq. An injury sustained while on duty ended his RAF career and Darren has since forged a successful career as a photographer.
In this blog he tells us what being a Rock Ape means to him and why the Regiment will always feel like family.
I'd wanted to join the RAF since I was a kid – first as a pilot but then I took the route of a Regiment Gunner.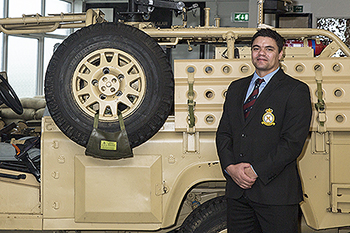 For various reasons I ended up joining up much later in life, when I was 28, so I was one of the older starters. Being a Gunner had its ups and downs but there were definitely more ups and I made friends for life.
My entire career in the RAF Regiment was one of Force Protection. I was mainly on patrol protecting the airfields and providing security for medics when they were going out and working with the locals. I felt like I was making a difference trying to engage with the locals and showing as best I could that we were there to help.
I would also give out pens and pads, which friends had sent over instead of comfort boxes, to local kids. They loved to try to learn to write or just draw but they had nothing to do it with.
My second tour was with HQ in Iraq with 15 Squadron, where we were the last boots off the ground. Being in the RAF Regiment is a way of life and I do miss the job. It doesn't matter when or where you served as a Rock Ape – I talk to guys who were serving before I even put a uniform on but I can sit and chat with them and it's like talking to someone you've known your entire life. The Regiment was like having a second family.
I was injured during my first tour of Afghanistan during a patrol. I was on a WMIK (weapons mount installation kit) and got hit by a machine gun after a hole opened under us, smashing my neck and shoulder, which, much later it was found, had resulted in a prolapsed disc, nerve damage and T4 syndrome.
Leaving the service was difficult as I hadn't really thought about what I would do outside of the RAF. I was a semi-professional photographer so when I was discharged I got a few more qualifications and I'm now a full time professional photographer.
The RAF Benevolent Fund helped me out a few times when I left the RAF and I needed financial support. They didn't hesitate to step in when I needed them and even though you might think you're invincible, you shouldn't be afraid to ask for help.
Further information
If you served in the RAF Regiment, or are currently serving, and need support, please get in touch with us today.
The RAF Regiment Heritage Centre is based at RAF Honington and is open on Tuesdays and Wednesdays. To visit, you must pre-register first on the website.