Recently the country rallied behind the brave ex-service men and women as they once again represented the UK and battled for Gold at the Invictus Games in Toronto. It has been great to see our veterans getting the attention they deserve and shining a light on some of the issues they have faced since leaving the military. And if there is one issue that stood out to at this year's Games, it was mental health.
We were so impressed by the number of athletes suffering from PTSD who stepped up and were willing to share their stories, which has not always been the case. People like Matt Neve, a 32-year-old ex-RAF driver from Wales, who talked about how sport helped his recovery and gave him a release from mental health issues he has endured for over a decade.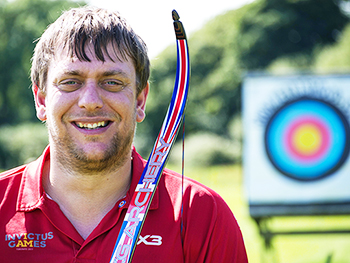 The RAF Benevolent Fund stepped in and provided Matt with his archery equipment, which gave him something to focus on other than his PTSD and helped him switch off mentally. Matt placed Gold at this year's Games.
But while the Invictus Games has opened the door for many veterans with mental health issues, sadly there are still plenty suffering in silence.
Today marks World Mental Health Day – and another opportunity to encourage people to speak out about their mental health issues and get the support they need. This year's theme is mental health in the workplace.
According to the Mental Health Foundation, one in five people in the workplace experience a mental health condition and the Armed Forces are no different.
At the RAF Benevolent Fund, we have been helping the RAF Family with mental health issues for many years. We have also long worked with and financially supported Combat Stress, the leading veterans' mental health charity.
More recently we have been working with Anxiety UK to address issues head on, providing a helpline, therapy sessions and self-help materials.
Our partnerships have been working: of those who have accessed Anxiety UK's therapy services to date, 60 per cent have shown reliably recovery and 90 per cent have reliably improved their levels of anxiety, stress and anxiety based depression.
While there is still a stigma associated with mental health, the situation has improved drastically from my days in the RAF, when mental health was rarely mentioned.
However, with campaigns like World Mental Health Day and the Invictus Games, we are confident that we will soon reach a point where people will no longer feel that they have to suffer in silence.
By Air Vice-Marshal David Murray
Find out about the services that we offer to member of the RAF Family who may be affected by anxiety or depression by visiting our wellbeing page.