Inspired by the British resolve shown in the Blitz bombing raids of the Second World War, Squadron Leader Nick Monahan has pledged to cycle, swim and run more than 1,600 miles in aid of the RAF Benevolent Fund. His notional journey, completed on the gym's cardio machines, will start from and finish at his home town of Bath and cover the equivalent distance between the 17 British cities which were bombed during the Blitz – 180 miles of rowing, 200 of running and over 1200 of cycling.
Nick has embarked upon his challenge as a way of keeping fit during a six-month deployment to Afghanistan, coinciding with the 75th Anniversary of the Blitz which followed the Battle of Britain. He's even planning to keep going during his R&R back home early next year after a fall on his first night away delayed the start of his marathon. In this guest blog Nick, who is also Deputy Director of the RAF Spitfires Rugby 7s, tells us why it means so much to him to raise funds for the RAF Benevolent Fund.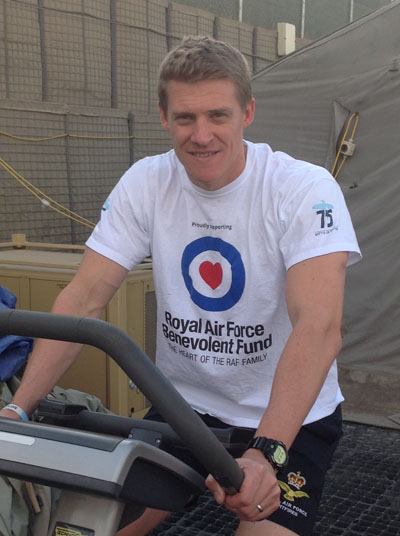 Rather embarrassingly I fell into an unlit, unmarked ditch on my first night here, and smashed my knee, elbow and ribs quite badly! Thankfully nothing was broken but a few weeks of enforced rest cost me valuable time. The knee isn't 100% but I'm managing it with icing and Ibruprofen. Obviously the required weekly mileage has gone up but I'm more determined than ever to complete the distance.
I've so far completed the running legs Bath-Bristol-Cardiff, the cycling legs Swansea-Birmingham and Coventry-Manchester, and am somewhere (not very far) out in the Irish Sea en route to Belfast! It's looking like it'll take every day I have out here but hopefully, as I get fitter, I may be able to buy a little more time for some much needed pre-Rugby 7s season weight training! What hasn't helped is that it turns out I've done the first 250 miles of cycling uphill, having used rather too high a resistance setting!

I took part in the Spitfires 7s 'Ride75' Battle of Britain commemorative event in September and, with the long deployment ahead, decided I wanted to take on a more personal challenge. As a Spitfires player I have taken part in a number of RAF Benevolent Fund fundraising events. I think the work of the charity, and all of the people who make it all happen, are fantastic.

The support given to serving and former RAF personnel, and their families, is obviously close to my heart and this became even more so following the tragic deaths of two Puma colleagues serving out here. I know the Fund is supporting the grieving families, and that of the surviving crew member, so they are certainly in mind whilst I'm slogging away, and for those out here kindly donating.

To sponsor Nick go to his JustGiving page.