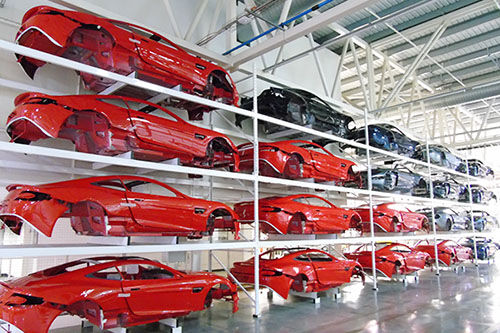 Behind the scenes with Aston Red 10
Earlier this year, Aston Martin Cambridge generously donated to us a limited edition Aston Martin Vanquish S Red Arrows car. The Vanquish S Red Arrows collaboration honours Britain's national treasure and world-renowned aerobatic team, the Red Arrows, and the car has been designed to emulate the experience of piloting a Red Arrows Hawk jet.
With only 10 made in the entire world, we were given 'Red 10' to raffle for £20 a ticket, with all funds raised going to support the RAF Family.
The raffle will take place in December, but this summer the team at Aston Martin HQ in Gaydon, Warwickshire are busy putting together the pieces of this extremely detailed car. During an exclusive visit to the Aston Martin factory, we got a sneak peak at some of the premium features included in this one-of-a-kind car.
We were introduced to the car by Simon Butler of Aston Martin's Q division, which is responsible for the bespoke personalisation and customisation of Aston Martin cars. Simon spoke to us about the intricate details of the car, such as blue and white stripes on side skirts that emulate Red Arrows smoke, RAF-themed bespoke fighter jet switches, and Red Arrows helmets, which have their own storage compartment in the rear seats.
Aston Martin uses some of the most luxurious leather for its interior, all hailing from Scotland. The Vanquish S Red Arrows car will feature a bespoke 'Diamond Nine' embroidered pattern in the headrests. The colours in the pattern are reflective of the suits worn by the Red Arrows pilots and their mechanics: the red pattern sits on the driver's headrest and the blue pattern on the passenger's headrest.
No detail has been overlooked – even the interior door panels and handles have Red Arrows references! Every owner of an Aston Martin Vanquish S Red Arrows edition will get an iconic Red Arrows pilot suit.
The Aston Martin Vanquish S Red Arrows car has recently come out of the paint shop after being sprayed with the iconic Red Arrows red paint – fondly named 'Éclat Red' after the Red Arrows motto. The paint shop is only accessible by Aston Martin's highly-skilled painters who must wear a special suit to ensure that no dust particles latch onto the wet paint. Each car comes out of the shop in pristine condition. All ten Red Arrows cars are ready for their interior to be assembled.
Once put onto the production line, they'll have all the wiring done before the seats and consoles are placed inside. Windows are last to be added, right before the intense quality assurance inspection. Each car is personally signed off by a senior team member to ensure there is always somebody accountable for each model that comes off the production line.