Black History Month: Celebrating the Fund's supporters
To mark Black History Month this year and to celebrate the diversity of our RAF Family, we have spoken to some of the Fund's celebrity supporters about what the awareness month means to them.
Ricky Whittle
Actor Ricky Whittle grew up as part of the RAF Family, with his father serving as a pilot. He said: "G
rowing up my father was my very own superhero, and still is. It was his qualities as a father and officer in the RAF that have helped mould me into the man I am today.
"I am so grateful for all the worldwide travel, friendships along the way, life experiences, education and exposure to all the beautiful cultures and countries this world and life had to offer. He taught me to strive to be the very best version of myself, to never let anyone define me but myself, to dream big and live, don't just exist. He worked hard to make his dreams come true and inspired me to do the same. I think he did a pretty good job."
Reflecting on what Black History Month means to him, Ricky said: "At times the racism was intense and fights were daily, but my parents taught me humour, generosity, empathy. They taught me morals, the difference between right and wrong, equality, respect, manners. Most importantly they gave me strength, belief and filled me with love and courage.
"I'm not white enough for some, not black enough for others. Well, let me remind you, I am neither and both. I am black and I am Caucasian because to ignore or lean toward one erases a parent and their contribution to my creation and life. I couldn't be more proud of my father and mother and the man they made me. Bringing two cultures and races together, traveling, teaching me strength and beauty comes from within; to stand up for myself and others who can't. Nobody defines me but myself and my actions."

Charlene White
For Loose Women presenter Charlene White, the Armed Forces is a big part of her life, with her father and uncle both serving in the military.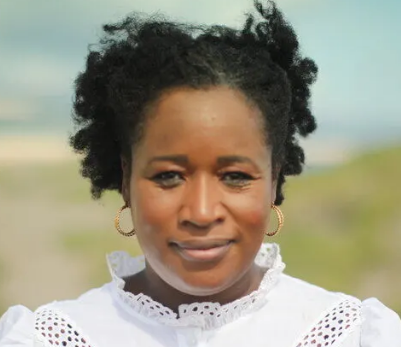 Charlene describes herself as a proud Lewisham girl, the daughter of immigrants who travelled from Jamaica to make Britain their home. The family, including her younger brother and sister, settled in south-east London, where Charlene grew up. Talking about growing up as part of the RAF Family, Charlene said: "As well as being a postman and driving instructor, my father served in the RAF for five and a half years as a Senior Aircraftsman. My grandparents Frank Alfred White and Leonora White arrived in Britain as part of the Windrush generation and raised their family, despite the terrible racism they experienced daily.
She added: "My first experience of racism was when I was seven. I had just moved schools, and was the only black person in the entirety of my primary school. Within the first week I was told to go back to where I came from  and that I looked like poo.
"I don't feel any less British because I'm black. I won't allow anybody to take that away from me at all. In the same way that I am no less Jamaican because I'm born here."
Clive Myrie
After his uncle was recruited to serve in the RAF as a driver during World War Two, BBC journalist and news presenter Clive Myrie and his family settled in Bolton.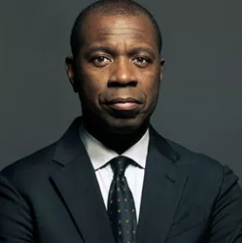 He said: "My uncle Cecil worked as a driver for the RAF, transporting munitions for aircraft across the country during the war. He'd been recruited out in Jamaica with the British Government desperate for help from the colonies in the war effort.
"He shipped out to the UK at the start of the war. My dad cannot recall sadly where Cecil was stationed, but it was after the war that he decided to settle down in Bolton and that's why my mum and dad eventually settled there too.
"My dad says Cecil recounted to him how during the Blitz he was having to jump out of the van at the sound of the sirens, abandoning the vehicle in case it was hit by a bomb detonating the cargo of weapons.
Clive added: "I'm also assuming Cecil would have helped transport munitions during the Battle of Britain in 1942. Cecil passed away in the late 1990s. The family were all very proud of his RAF service."
Colin McFarlane
The RAF Benevolent Fund is a charity close to Hollywood actor Colin McFarlane's heart, with his father Sidney being a beneficiary after a 30-year career in the RAF.
Sidney was called up under National Service laws and went on to reach the rank of Squadron Leader in the personnel and administration branch. Along the way, he served in Bahrain, Cyprus, Germany three times, Holland, and all over the UK, from as far south as RAF Devizes, to as far north as RAF Fylingdales in Yorkshire. Stations included RAF Laarbruch and Rheindahlen in Germany, HQ AFCENT in Holland and Akrotiri and Episkopi in Cyprus. Colin said, "My dad was the first black officer I ever saw when growing up on RAF bases."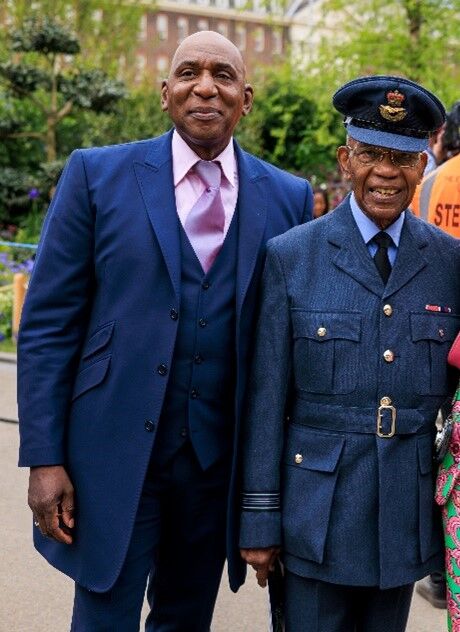 He arrived in England as part of the Windrush generation in 1955 aged 20, with a glowing reference in hand to work for a British engineering company called Reginald Aitken Ltd.
He had been employed by the company, back in Jamaica; only to be told there were no white collar jobs for people of colour in England. Colin said:"It was a huge blow he didn't see coming from the country he had so much admiration for. As a result, as my dad was unable to secure work that matched his qualifications, he ended up having to settle for a job as a bus conductor where he ran the gauntlet of racist insults."
Colin added: "Then in 1957, out of the blue, he was shocked to learn, that although he could not be accepted in an office environment, he would nevertheless be accepted for National Service for the 'mother country'. He'd never even heard of this before and the prospect filled him with trepidation but he had no choice, he was a British citizen from the colonies and it was the law (1948 National service Act). He would end up serving for 30 years."
"My father came to love the life in the air force, from the dances and the balls in the Sergeants' Mess and later Officers' Mess, to the wonderful house parties I would spy from my bedroom, to his days as a cricket umpire where he also excelled."
Colin concluded: "The cultural experiences were vast and inspiring, we all learnt so much. It was a full and rich life that has left he and my mother with so many wonderful memories and so much to be grateful for and ultimately provided the foundations for the life and acting career I have gone on to enjoy. My father is rightly proud of all he achieved with the RAF, ably supported by his wife, my brilliant mother Gwen."