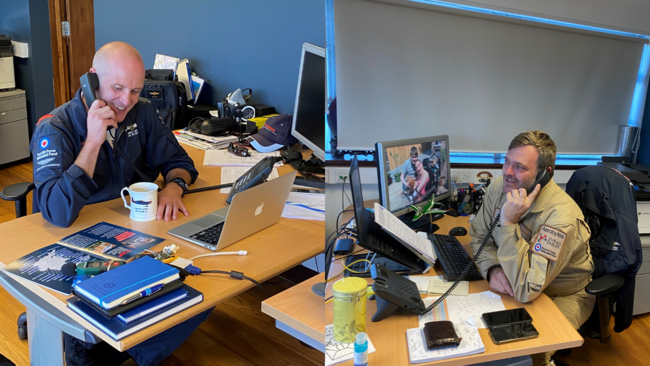 Blades pilots surprise Fund supporters for Thank You Day
Last week, we dedicated a whole day to thanking our loyal fundraisers and supporters who have worked tirelessly to support the RAF Benevolent Fund's mission.
On Friday 22 October, pilots from the Blades Aerobatic Team, a team of former Red Arrows pilots, called a number of the Fund's supporters and beneficiaries to thank them and let them know how their support has helped members of the RAF.
Blade 1 Andy Evans spoke to MJ and Joe Golinski, a mother and son who took part in the 80 Miles in 80 Days fundraising challenge earlier this year which celebrated the 80th anniversary of the RAF Air Cadets. In total, the initiative raised £60,000 which was split between the RAF Benevolent Fund and the RAF Air Cadets General Purposes Fund.
Blade 1 Andy Evans said: "It was fantastic speaking to Joe, a young man who has done such inspiring deeds for the RAF Benevolent Fund. As well as chatting about Joe and his mum's 80 Miles in 80 Days challenge, we also had a great conversation about his time with the RAF Air Cadets and the importance of supporting the Fund and the services it provides for RAF personnel, veterans, and their families."
Blade 3 Mike Ling spoke to 13-year-old Oli and 11-year-old Zoe, two children from RAF High Wycombe who have helped spread awareness of the Fund through their attendance at Airplay, our flagship youth support service available for young people living at RAF stations across the country.
Mike said: "I had a lovely time talking to Oli and Zoe about their experiences with Airplay at RAF High Wycombe. With their dad away every week, they said it was great to get involved with the various activities and the staff were a lot of fun. Both Andy and I have been supported by the Fund in the past, so to be able to talk to some of those brilliant individuals who are doing so much for the charity was really special."
The Blades Aerobatic Display Team are proud supporters of the RAF Benevolent Fund. Through this partnership, the Blades help to raise awareness of the Fund's services for current and former RAF personnel and their families.
The Blades won the Outstanding Support from an Organisation title at this year's RAF Benevolent Fund Awards in recognition of the support the team gave the Fund in 2020. Last year, the Blades marked the 80th anniversary of the Battle of Britain by flying over former RAF sector stations on Battle of Britain Day (15 September) and took part in the Hardest Day Challenge. As the current world record holders for the number of consecutive close-formation loops, the Blades challenged themselves to complete 80 aileron rolls in close-formation to mark the anniversary.